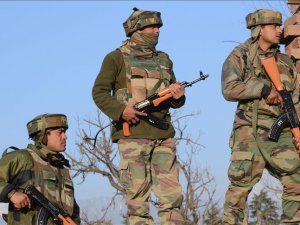 17 Kashmiris killed in clashes with Indian army
A police officer also killed as clashes erupt in disputed Himalayan region over killing of young militant commander
At least 17 people have been killed and over 200 seriously wounded after Indian forces opened fire during clashes with Kashmiri civilians that have continued into Sunday.
Hundreds of people took to the streets in public mourning for a young commander of Kashmiri pro-independence militants, who was killed by Indian forces during a gun battle on Friday.
A police official confirmed the 17 deaths to Anadolu Agency, but could not be named as they were not permitted to speak to media. They also confirmed Indian media reports that a police officer was killed by angry crowds in south Kashmir.
All of the deaths have been in south Kashmir near the hometown of 22-year-old Burhan Wani, who had become a poster-boy for the anti-India militants, but the current situation is unclear after phone and internet services were suspended and all routes to the area were blocked.
Mobile internet has been blocked across the valley and a strict curfew put in place in all major towns, while the Kashmiri pro-independence leadership have called for a complete shutdown in protest.
"We have imposed a much stricter curfew than we did on Saturday and we are trying to bring the situation under control. People are angry and though we expected a response to the killing from the people, we expected nothing of this scale," another senior police officer, who also could not be named, told Anadolu Agency.
More than 200,000 people reported several funeral prayers for Wani, who had quickly become one of the most prominent Kashmiri militants in the past decade.
According to the police, dozens of police stations, police posts, paramilitary and army camps were attacked by the civilian protestors and many of the structures were set on fire.
Kashmir, a Muslim-majority Himalayan region, is held by India and Pakistan in parts and claimed by both in full.
The two countries have fought three wars -- in 1948, 1965 and 1971 -- since they were partitioned in 1947, two of which were fought over Kashmir.
Since 1989, Kashmiri resistance groups in IHK have been fighting against Indian rule for independence or for unification with neighboring Pakistan.
More than 70,000 Kashmiris have been killed so far in the violence, most of them by Indian forces. India maintains over half a million soldiers in the IHK.
A part of Kashmir is also held by China.