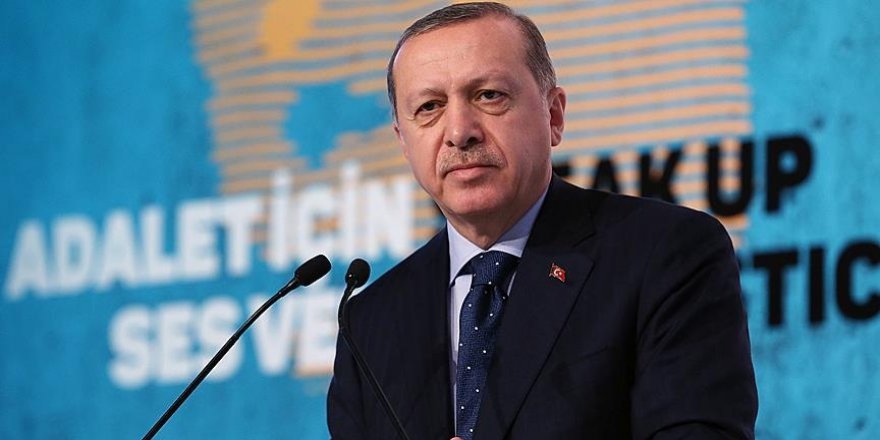 Erdogan accuses EU of broken promises on refugees
Turkish president tells European Union: 'Border gates will be opened if you go too far'
Turkey's president strongly criticized the EU on Friday, accusing it of breaking promises on refugees.
Speaking at a meeting of the Women and Democracy Association in Istanbul, Recep Tayyip Erdogan said it was Turkey which was feeding over three million refugees.
Addressing the EU, he added: "You did not keep your word. When 50,000 refugees were at the Kapikule [Turkey-Bulgaria] border, you cried out.
"You started to say: 'What will we do if Turkey opens border gates?'"
"If you go too far, the border gates will be opened", he said.
Referring to the famous case of Syrian refugee toddler Aylan Kurdi, whose body was washed ashore in Turkey in 2015, Erdogan said: "Now in the world there are millions of Aylan Kurdis waiting for a response, compassion and mercy. Are there any steps taken for them? No.
"There are millions of babies, women, all from 7 to 70 in Africa waiting for a solution. And there are no steps taken.
Addressing the EU, Erdogan said: "You have never treated humanity honestly. You did not take 'Aylan toddlers' when they washed ashore in the Mediterranean or 'Omran babies'.
"It is us, who are feeding the 3-3.5 million refugees in Turkey. You [the EU] broke your promises", the Turkish president added.
"Neither I, nor the Turkish people will buy these bluffs," Erdogan added.
Omran Daqneesh is the five-year-old Syrian child photographed in August with his face covered in dust and blood. The image went on to become an icon of civilian suffering in the war-torn nation.
Erdogan's criticism on Friday followed the European Parliament's approval on Thursday of a non-binding motion to freeze EU-membership talks with Turkey.
Germany: EU-Turkey agreement is a success
Following Erdogan's heavy criticism, the German government renewed its commitment to the EU-Turkey refugee deal, and signaled a readiness to discuss any problems in its implementation.
"We consider the EU-Turkey agreement as a common success," the German government's deputy spokeswoman Ulrike Demmer told a news conference in Berlin on Friday.
"The continuation of this agreement is in the interest of all parties concerned. The EU stands by its commitments and also complies with them," she said.
Demmer urged all parties to tone down their rhetoric and discuss existing problems in direct talks.
"Threats from both sides will not help now. If there are problems, we must address them. As I have said, this agreement is in the interest of all," she stressed.
German Chancellor Angela Merkel had championed the EU-Turkey agreement of March 18, which aimed at discouraging irregular migration through the Aegean Sea.
The agreement introduced stricter measures against human traffickers, while the EU promised financial aid to improve the conditions of nearly three million Syrian refugees in Turkey.
Since the agreement came into force, Germany has seen a sharp decline in refugee numbers, helping Merkel to address the increasing domestic pressure over the migrant crisis.
Last year, Merkel pursued an open door policy for refugees despite widespread criticism and the country received a record 890,000 refugees.