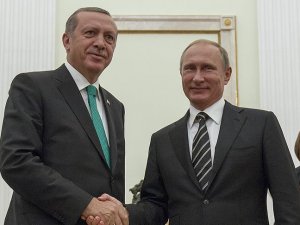 Erdogan, Putin discuss bilateral relations over phone
Turkish President Erdogan and his Russian counterpart Putin discussed normalization of relations over phone Wednesday, presidency says
Turkish and Russian leaders held a phone call Wednesday, discussing bilateral relations and cooperation on regional issues and humanitarian crises, according to a statement issued by Turkish presidency on the same day.
During the conversation, Turkish President Recep Tayyip Erdogan and his Russian counterpart Vladimir Putin emphasized the importance of normalizing relations between the two countries.
"Mr. President and Mr. Putin pointed to the importance of holding cooperation in the face of political, economic and humanitarian crises in the region as well as taking necessary steps to revive the bilateral relations," read the statement.
Putin also condemned the deadly terror attack at Tuesday's Istanbul Ataturk Airport, in which more than 40 people, including foreigners, were killed and hundreds of others were injured. Putin offered his condolences to Turkish nationals.
The two leaders also expressed resolve on joint fight against terrorism and vowed further contacts.
Earlier on Wednesday, a presidential source, speaking on the condition of anonymity due to restrictions on talking to the media, said Erdogan and Putin had a "very positive" conversation.
Diplomatic relations between Turkey and Russia soured following the downing of a Russian warplane that violated Turkish airspace last November, prompting Kremlin to order sanctions on Turkish food products, an end to visa-free travel and a ban on Russian tourists taking package holidays in Turkey.
Erdogan sent Putin a letter Monday calling for the restoration of "traditional friendly ties".
Turkish Presidential spokesperson Ibrahim Kalin said an "important step" had been taken to normalize relations and the countries had "opened a new page in which problems regarding bilateral ties and regional issues such as Syria, Ukraine and Crimea will be handled through dialogue and negotiation."