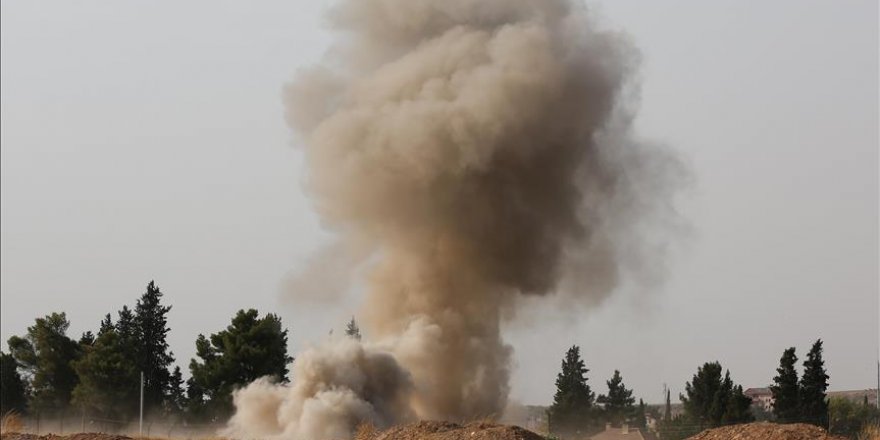 Free Syrian Army clears mines from former Daesh city
Life returning to normal days after Turkey launched Operation Euphrates Shield in support of FSA fighters
The Free Syrian Army (FSA) is cleaning Jarabulus of mines and explosives planted by the Daesh terror organization before its withdrawal from the northern Syrian city.
Free Syrian Army sources said about 20 explosives were detonated on Friday, with the operations continuing. Soldiers are examining evacuated houses and removing mines and explosives planted at the border with Turkey.
The FSA has gained full control of Jarabulus district, part of Aleppo province in northern Syria, following Operation Euphrates Shield launched by the Turkish Armed Forces and an international anti-Daesh coalition.
The operation began early Wednesday when artillery and airstrikes were followed by Turkish tanks crossing the border to target Daesh in support of FSA fighters.
Jarabulus is located one kilometer (0.6 miles) from the Turkish-Syrian border.

Life returning to normal
An Anadolu Agency reporter in Jarabulus reports that life is returning to normal days after Euphrates Shield started, with many workplaces re-opening and children playing on the streets.
One business owner in the district, who asked not to be identified due to security concerns, expressed his satisfaction about reopening his shop shutters once again.
The owner said he was happy to regain his freedom as the FSA cleaned the district of Daesh militants.
An electronic materials business owner, who also did not want to be identified, said he was happy to see his business open again after the withdrawal of Daesh militants. He wished for life in the district to return to normal as soon as possible.
Operations against Daesh terror organization in northern Syria continue.
*Reporting by Sarp Ozer and Mohamad Misto; Writing by Fatjon Prroni