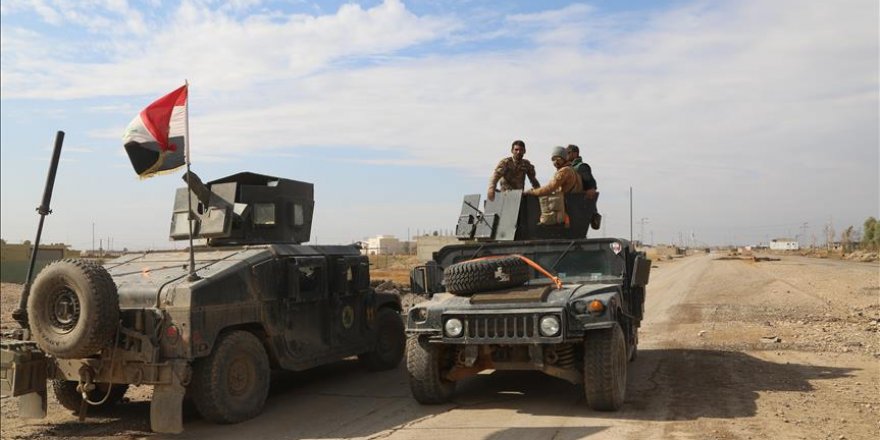 Iraqi army, militias capture villages, base near Mosul
Coalition warplanes, meanwhile, strike positions in and around Daesh-held city
Iraqi army troops and Shia militiamen have captured six more villages near Mosul -- along with a military base -- from the Daesh terrorist group, a military source told Anadolu Agency late Wednesday.
According to Abdul-Amir Yarallah, a lieutenant-general in the Iraqi army, federal police forces had managed to "liberate" the village of Al-Azbah, located south of the Daesh-held city.
Yarallah also said the army's Ninth Division had captured Aaqub village southeast of Mosul, while Hashd al-Shaabi militiamen had taken the villages of Tel Suwan, Tel Izzo, Tel Shiyan and Al-Hamra, all of which are located to the west of the city.
The Hashd al-Shaabi, an umbrella group of pro-government Shia militias, confirmed late Wednesday that it had seized Tal Afar Airport from the terrorist group.
Tal Afar is a majority-Turkmen city in Iraq's northern Nineveh province, of which Mosul is the provincial capital.
On Monday, the Hashd al-Shaabi -- in coordination with the Iraqi army's Joint Operations Command -- launched the third phase of an ongoing operation to retake areas east of Tal Afar, which is located some 65 kilometers west of Mosul.
Airstrikes
Iraqi Army Brigadier Munadil al-Badrani, meanwhile, told Anadolu Agency that airstrikes carried out Thursday by a U.S.-led coalition had destroyed seven Daesh positions in and around Mosul, killing an indeterminate number of militants.
Columns of smoke, al-Badrani said, could still be seen rising from targeted positions.
On Oct. 17, the Iraqi army -- backed by coalition airstrikes and local allies on the ground -- began a wide-ranging operation to retake Mosul, Daesh's last stronghold in northern Iraq.
Once Iraq's second largest city in terms of population, Mosul was overrun by the terrorist group -- along with areas in northern and western Iraq -- in mid-2014.
Recent months have seen the Iraqi army and its allies retake much territory, especially on Mosul's outskirts and in Iraq's western Anbar province.