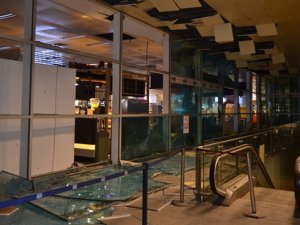 Istanbul airport terror attack death toll rises to 41
10 foreign nationals and 3 others with dual Turkish citizenship are among the 41 dead in Tuesday's Istanbul airport attack, governor's office says
The death toll in Tuesday's terror attack at Istanbul's Ataturk Airport has risen to 41, the regional governor's office said on Wednesday.
According to a statement issued by the office, 10 foreign nationals and three others with dual Turkish citizenship were among the 41 people who were killed in the attack.
A total of 109 injured people out of 239 have been discharged from hospitals in Turkey's most populous city, the statement added.
The Turkish prime ministry announced a one-day national mourning was declared in the aftermath of the Istanbul airport attack.
Turkey will hoist its flags at half-mast across the country and in Turkish foreign representatives around the world, the prime ministry said in the statement.
"As a sign of mourning, flags will be flown at half-mast from our domestic and overseas buildings until sunset on Wednesday, June 29," the Prime Ministry said.
"We expect that a resolute stance against terrorist organizations should be adopted by the world and especially Western countries with their parliament, media and non-governmental organizations," President Recep Tayyip Erdogan said in a statement.
"Turkey will continue its fight against all terrorist organizations at all costs until the end of terrorism," Erdogan said.
Prime Minister Binali Yildirim said Wednesday that three suicide bombers were also killed in the attack at Istanbul's Ataturk International Airport on Tuesday night.
Yildirim said initial indications suggested Daesh was responsible. He added that airport operations resumed Wednesday morning.
"Our airport has been reopened to flights as of 2.20 a.m. [2320GMT] and air traffic has returned to normal," he said.
The prime minister added that police investigations into the incident were ongoing.