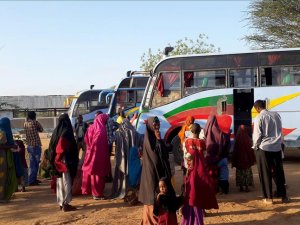 Kenya: Somali refugee repatriation to start in July
Repatriation of over 300,000 Somali refugees from northeastern town of Garissa will begin on July 1, Kenyan government says
The repatriation of over 300,000 Somali refugees from Kenya's northeastern town of Garissa will begin on July 1, the Kenyan government announced on Friday.
The announcement was made by Kenyan Interior Ministry Permanent Secretary Karanja Kibicho on Friday as he closed a sensitization workshop for the team leading the Somali repatriation process at Utalii Hotel in the Kenyan capital Nairobi.
"We are dead serious on closing the Dadaab refugee complex, the process will kick off on July 1, that is when the first team of refugees will be sent back home," Kibicho said.
Kibicho said that even though Kenya was struggling to raise $197.5 million to fund the entire process, the government would not go back on its decision to close the camp.
Kenya, Somalia and the UN High Commissioner for Refugees (UNHCR) had signed a tripartite agreement in 2013 on the repatriation of Somali refugees, a process which Kenyan president termed as "too slow" and rolled out the immediate repatriation process citing insecurity as the main cause.
Joseph Irungu, chairman of the team tasked with repatriating the Somali refugees, said that the process would be humane and that his team will work with the UNHCR.
"We are not going to force any refugees to go back home, we shall be sensitizing them to see the need of going back home to their country of origin, we hope that other stakeholders will join us to support this exercise," Irungu told reporters at Utalii Hotel on Friday.
He called on the Somali government to play its part as promised and to provide an area for resettlement for the refugees.
The refugee repatriation process is expected to end in November.