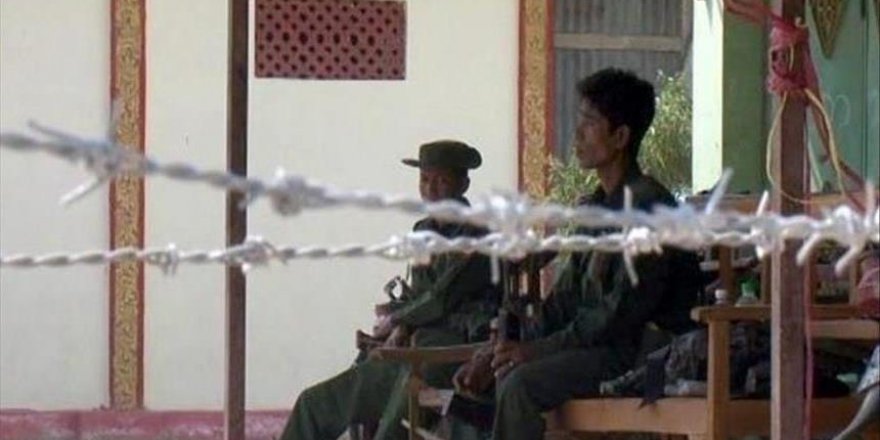 Myanmar's 88 generation calls for charter change
2008-drafted constitution includes provisions ensuring army remains powerful political force in country
Democracy may have emerged victorious, but the battle is not yet over, say Myanmar's veteran student leaders.
On Monday, politicians, activists and students from across Myanmar marked the 28th anniversary of the 8888 Uprising with a vow to continue working with the government for constitutional amendments in a bid to ensure full democracy and the formation of a federal union.
The 2008-drafted constitution includes provisions ensuring the army remains a powerful political force in the country -- widely seen as the major barrier for the country to be created as a federal union and multiparty democratic system, while securing minority rights and a secular state.
"The country's transition to democracy will not be successfully implemented without charter change," Min Ko Naing from the Peace and Open Society told reporters Monday at the opening of a temporary museum to mark 8888 in commercial capital Yangon.
The gathering was the first time the event was commemorated under a civilian-led government for half a century, following the victory of National League for Democracy (NLD) in last year's election.
"Therefore, we will keep working with NLD government for the amending or redrafting the military-draft constitution," he said.
The 8888 Uprising -- the largest countrywide pro-democracy/anti-junta demonstrations Myanmar has ever known -- saw protesters take to the streets Aug. 8, 1988 and march toward the city center in Yangon to call for a transition to democracy and an end to dictator General Ne Win's rule.
The protests were brutally crushed by the military rulers, with an estimated 3,000 people -- mostly students -- losing their lives.
NLD leader Aung San Suu Kyi and leaders of Peace and Open Society have jointly pushed for the amendment of the constitution to create a federal democratic union that includes all Myanmar's ethnic groups in order to bring peace to a country racked by decades of civil war.
However concerns are growing that the NLD has dropped charter change from its priority lists, as the powerful lower house speaker, Win Myint, has said it should only begin after national peace and reconciliation are achieved.
"Mission for charter change will not be successful if we attempt to implement changes without first securing national reconciliation," Win Myint told a press conference June 13.
"It will succeed if we have better understanding of each other through the national reconciliation and peace process," he was quoted as saying by local media.
Talking to Anadolu Agency, Sai Kyaw Nyunt, joint secretary of the Shan Nationalities for Democracy -- a long-time ally of the NLD -- said the national reconciliation and peace process would not be successful without charter change.
"We can't build a federal union at all under the current constitution," he said by phone Monday.
"We already proposed the government that talks at the upcoming peace conference should focus on how to amend the constitution."
The government has invited all ethnic armed groups to a Union Peace Conference scheduled for late August.