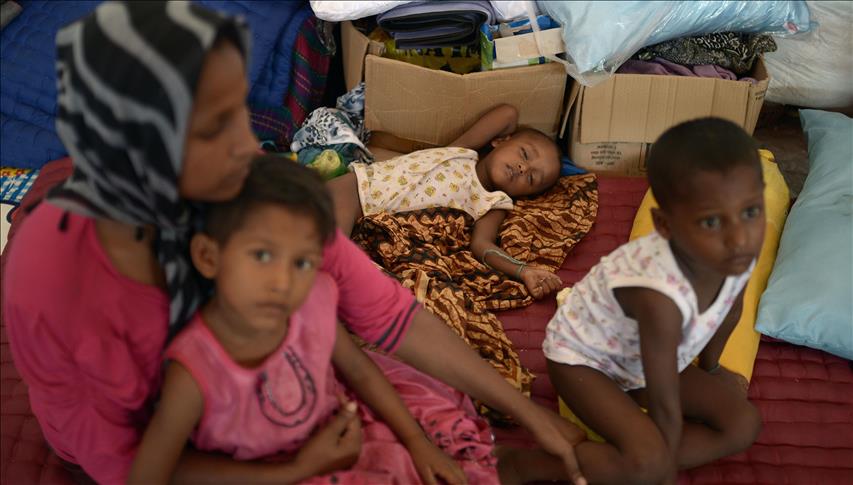 Nationalist Myanmar party rejects UN envoy's meet offer
Party in Rakhine says UN envoy would just talk about 'Bengalis' -- term used to suggest Rohingya Muslims are interlopers
A powerful ethnic party in Myanmar has rejected a United Nations human rights envoy's request to meet during her visit to displaced persons camps in troubled western Rakhine state.
Yanghee Leeg, the UN's special rapporteur on human rights in Myanmar, arrived in the state's capital Sittwe on Wednesday morning and requested a meeting with officials from the Arakan National Party (ANP) on Thursday morning, the party said in a statement.
"We don't believe at all that she wants to try to understand the situation here. She never really listens to us. That's why we refused to meet her," ANP joint secretary Ba Swe told Anadolu Agency by phone.
"She would just talk about Bengalis," he said, using a term that suggests that the around one million Rohingya Muslims in Rakhine are illegal immigrants from neighboring country Bangladesh.
On Tuesday, the ANP, which won the majority of seats in Rakhine in last year's general election, slammed Myanmar's government -- led by Nobel Peace laureate Aung San Suu Kyi -- for its suggestion of a new term to describe the stateless Muslims in Rakhine.
Last week, the government had presented a proposal to the 32nd session of the Human Rights Council in Geneva that "Muslim community in Rakhine state" should be used instead of the controversial terms "Rohingya" and "Bengali".
The ANP's statement Tuesday insisted the new term "would efface the origin of these Bengalis, and fabricate that these people are Rakhine native".
It was released a day after State Counselor Suu Kyi, who also serves as foreign minister, discussed the situation in the state with Lee, and told the UN envoy of reasons for avoiding the use of the "controversial terms".
Since mid-2012, communal violence between ethnic Buddhists and Muslims in Rakhine has left around 57 Muslims and 31 Buddhists dead, some 100,000 people displaced in camps and more than 2,500 houses burned - most of which belonged to Rohingya.
Rakhine is also home to other Muslims including the Kaman who are officially recognized as among Myanmar's 135 ethnic groups, unlike the Rohingya - described by the UN as the world's most persecuted ethnic minority group.
Since her party's victory in the Nov. 8 election, Suu Kyi has been placed under tremendous international pressure to solve problems faced by Rohingya but has had to play a careful balancing act for fear of upsetting the country's nationalists, many of whom have accused Muslims of trying to eradicate the country's Buddhist traditions.
Suu Kyi has, however, enforced the notion that the root of many of the impoverished region's problems are economic, and is encouraging investment in the area, which in turn the National League for Democracy (NLD) hopes will lead to reconciliation between the Buddhist and Muslim communities.
Lee's current 12-day trip is her fourth visit to Myanmar and the first under the new government led by the NLD, which took power in late March.
In her last visit to Myanmar in 2015, Lee's access to Rakhine had been denied after the previous government was angered by her criticism of restrictions on political freedom and her demands for citizenship rights for Rohingya Muslims.