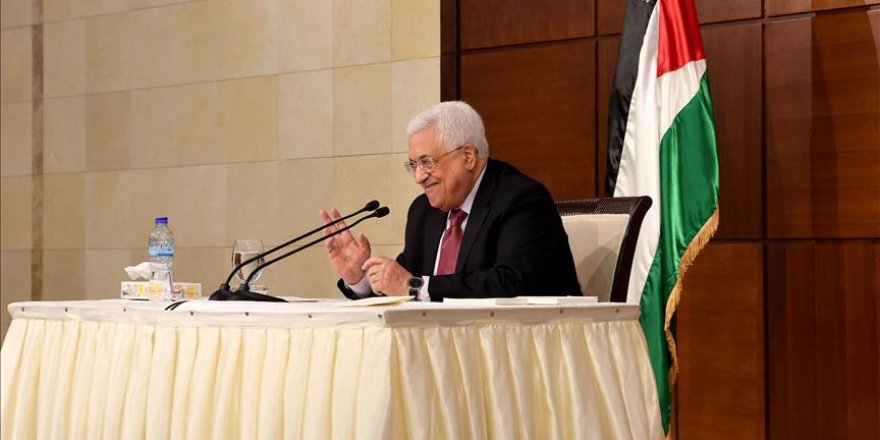 Palestinian Fatah movement convenes party congress
Following seven-year hiatus, Palestinian Fatah movement holds party congress in West Bank city of Ramallah
The Palestinian Fatah movement of President Mahmoud Abbas opened its seventh party congress on Tuesday in the West Bank city of Ramallah.
Up to 1,400 Fatah members are expected to attend the five-day congress, the first to be held since 2009.
"More than 90 percent of the party's members have arrived in Ramallah to take part in the event," congress spokesman Mahmoud Abu al-Haija, told Anadolu Agency.
He also noted that some 250 out of 390 Fatah members based in the blockaded Gaza Strip had arrived in the city to attend the congress.
According to Abu al-Haija, the conference will also be attended by almost 100 overseas delegations.
Congress participants are expected to discuss Fatah's political program and the movement's relationship with the Palestinian Authority and other Palestinian political factions.
Abu al-Haija said the conference would also tackle longstanding inter-Palestinian divisions -- exacerbated when Hamas seized control of the Gaza Strip from Fatah in 2007 -- and possible means of resolving them.
The opening session of the party congress is expected to be attended by representatives of Hamas, along with those of other Palestinian factions.
During the congress, Abbas is expected to be reelected as Fatah leader.
Fatah members will also elect members of both the group's Central Committee and its Revolutionary Council.
Composed of 21 party members, Fatah's Central Committee is the group's main decision-making body and is responsible for all its activities.
The 50-member Revolutionary Council, meanwhile, is the movement's highest legislative body.
Struggle against occupation
Fatah held its first party congress in 1964 in Syrian capital Damascus, where it endorsed armed struggle as a means of ending Israel's occupation of Palestinian territory.
Three years later, the movement appointed members of its Central Committee and Yasser Arafat was made the group's first spokesman.
In 1968, Fatah held its second congress in Damascus, where it elected a new Central Committee composed of 10 members and established its Revolutionary Council.
Fatah's third congress was held four years later in Damascus amid deadly clashes between factions of the Palestine Liberation Organization (PLO) and the Jordanian army -- events that later came to be known as "Black September".
In 1980, Fatah held its fourth congress in Syria during which the Soviet Union was acknowledged as a "strategic ally" of the movement.
In 1988, Fatah held its fifth congress in Tunisia, at which the movement expanded the Central Committee to include 21 members.
After a 21-year hiatus, Fatah held its sixth congress in 2009 in the West Bank city of Bethlehem. The event was held 16 years after the signing of the Oslo Accords between Israel and the Fatah-led PLO.