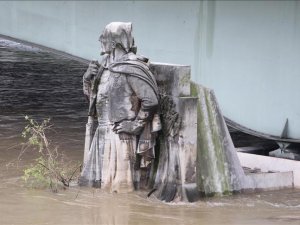 Paris' Seine expected to rise by 6 meters
Orange alert, the second highest level of warning, as floodwaters continued to rise
The water level in the Seine River was expected to reach up to six meters (19.68 feet) by midday Friday in Paris following the stormy weather and torrential rains in France.

The French national weather forecast agency, Meteo France, placed the capital and much of the surrounding area on Orange alert, the second highest level of warning, as floodwaters continued to rise.

Authorities fear the capital could relive the great 1910 Paris floods, during which the Seine River reached eight meters (26.25 feet).

The city hall said it would switch to red alert if the Seine reaches 7.3 meters (23.95 feet). It also closed over 40 different parks and public spaces to the public.

At least two people died and thousands of others were forced out of their homes Thursday , according to local police

A 74-year-old elderly man reportedly fell off his horse Thursday and was "washed away" in floods in Evry-Gregy-sur-Yerre, in Seine-et-Marne near Paris, police said.

The body of an 86-year-old woman was found in her flooded home Wednesday, also in Seine-et-Marne. An autopsy is scheduled for Friday to determine whether her death was linked to flooding, police added.

Authorities also warned residents near the river banks to clear their basements of valuables "because the Seine may be flooded."
Museums in Paris also shut down over fears that the water level in Seine River may rise.
Both the Louvre and the Musee d'Orsay museums on the banks of the River closed earlier Thursday and also plan to close their doors to public Friday.

The country's rail operator, SNCF, also closed a section of the capital's main commuter train line, RER C.

French President Francois Hollande said a state of natural disaster would soon be declared for the parts of France worst hit by floods.