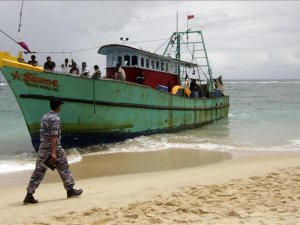 Philippines probing report Indonesians abducted at sea
Boat captain reported to have said gunmen introduced themselves as Abu Sayyaf, demanding $4.9 million for release
The Philippines military is seeking to verify reports that a Daesh-linked group has abducted 13 Indonesians from a tugboat off Tawi-Tawi in the troubled southern Philippines.
An army spokesman told Anadolu Agency in a text message Thursday that the military was looking into a report that the boat captain had phoned his wife and told her that they were intercepted at sea by gunmen.
"Efforts are being made to verify the veracity of this latest report," Maj. Filemon Tan Jr., spokesman of the military's Western Mindanao Command (WesMinCom), said.
No statement has been made by boat owner PT Rusianto Brothers.
Wednesday's Mindanao Examiner reported the captain as saying that the gunmen had introduced themselves as Abu Sayyaf, and were demanding 20 million ringgits ($4.9 million) for the men's safe release.
According to the report, the militants and their hostages were last reported heading to Tawi-Tawi, one of five provinces in the Philippines' Muslim autonomous region.
The Abu Sayyaf is reported to have split the hostages into two groups.
The Philippines military and police authorities were not immediately available to confirm the reports, but the Star Online reported that the Indonesian embassy in Manila had said they were not true.
On Monday, defense officials of the Philippines, Malaysia and Indonesia agreed to conduct trilateral maritime and air patrols in the three countries' maritime areas of common concern, particularly in the Sulu Sea, to beef up regional security and thwart criminal activities at sea.
The Sulu Sea is a popular route for cargo and passenger ships, with some vessels falling prey to pirates and kidnappers, while others use the route for smuggling.
Kidnap-for-ransom gangs also frequently operate in the island provinces of Sulu, Tawi-Tawi and Basilan.
They are known to hand over their captives to the Abu Sayyaf and negotiate for a ransom that, if paid, is shared with the group.
The kidnappers use isolated sea-lanes and coastal areas to grab their victims, who are then held captive in isolated villages in Mindanao.
Last week, the Abu Sayyaf beheaded a second Canadian hostage after a deadline set by the group for the delivery of a 600 million peso ($13 million) ransom was missed.
Since 1991, the Abu Sayyaf group -- armed with mostly improvised explosive devices, mortars and automatic rifles-- has carried out bombings, kidnappings, assassinations and extortions in a self-determined fight for an independent province in the Philippines.
It is notorious for beheading victims after ransoms have failed to be paid for their release.