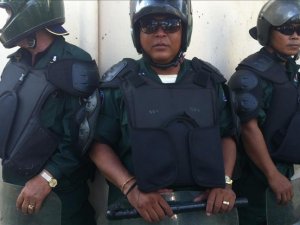 Prominent political analyst shot dead in Cambodia
Kem Ley known for speaking out on hot-button issues, founding grassroots network to urge citizens to be politically active
A prominent political analyst and grassroots organizer was gunned down in broad daylight in Phnom Penh on Sunday morning as he stopped at a convenience store to buy coffee with two of his children, according to police and witnesses.
The analyst, Kem Ley, was well known in Cambodia for speaking out on hot-button issues, and had also founded a grassroots political network intended to encourage citizens -- particularly rural-dwelling farmers -- to be more politically active.
Cambodian National Police spokesman Kirth Chantharith named the suspect as "Chuob Samlab" -- which translates as "Meet Kill" -- and said he was carrying a grudge against Kem Ley over a $3,000 debt.
"I just received the initial report that Mr. Kem Ley was shot this morning at nearly 9 a.m. at the Caltex Bokor [gas station] mart shop," Kirth Chantharith told Anadolu Agency.
A cleaner at the gas station, who said she "did not dare" give her name, told journalists that Kem Ley had been drinking coffee with two of his sons when a man came up to him and swiftly fired a gun.
"Uncle Kem Ley got out of the car and came here for a coffee at 8 in the morning," she said. "I was cleaning near him, just a meter away. I heard two shots -- bang! bang! -- and then the screams began."
In a videotaped confession circulated online, "Chuob Samlab" said he had lent Kem Ley $3,000 and decided to kill him when the debt was not repaid.
He did not explain how he had come to know the analyst or been in a position to lend him money.
Kem Ley's killing comes amid a wave of repression in Cambodia, as the ruling party and its leader, Prime Minister Hun Sen, have fought to keep the insurgent Cambodia National Rescue Party from gaining electoral traction.
The opposition party had an unexpectedly successful showing in the 2013 national election, but since then has struggled to find its footing as its leaders have been targeted with multiple lawsuits.
Opposition leader Sam Rainsy, who has been living in exile in France to avoid the threat of jail, took to Facebook on Sunday to condemn the murder.
He argued that it was a state-sanctioned assassination in the vein of other famous political killings, including the gunning down in broad daylight of union leader Chea Vichea in 2004, and a grenade attack on one of Rainsy's rallies in 1997 that took multiple lives.
"Mr. Kem Ley was a dignified son of Cambodia who actively participated in the fight for democracy and justice for the Khmer people," the opposition leader wrote.
"He was a highly educated man with noticeable political gift and potential. Because he apparently represented a political danger for the other side, the latter hired a hitman to assassinate him as they had, in a recent past, hired hitmen to assassinate Chea Vichea and Chhut Vuthy, two other dignified sons of Cambodia who were at the forefront of the battle to defend the Khmer people's interests, just as Kem Ley was."
Environmentalist Chhut Vuthy had been investigating illegal logging in southwest Koh Kong province when he was shot dead in 2012.
Hun Sen also addressed the killing in a statement on his Facebook page, giving his condolences to Kem Ley's family and calling the murder "cruel" while calling for increased gun control.
"Please, all authorities, take serious action and take stronger measures to check for weapons and increase security measures," his statement said.
United Nations Special Rapporteur Maina Kiai described the circumstances of Kem Ley's death as "plainly suspicious given his standing as a critic of the government and his recent comments in the media about the Global Witness report on the Prime Minister's family's business empire".
"There needs to be an urgent, thorough and independent investigation into the murder," he said on his Facebook page.
At the scene of the killing, hundreds of mourners gathered to pay their respects to Kem Ley, whom many called their "hero".
"I came because Cambodia has so few PhDs, especially PhDs who dare to speak out. All his analysis, I listened to," said Mono Vathanak, a 28-year-old monk, as he placed white flowers on Kem Ley's car, which still sat in the gas station parking lot.
"I've been here since 9 a.m. I listen to Kem Ley all the time. He's a good man and he speaks the truth," Pov Chenda, a fried clam vendor at a nearby market, told Anadolu Agency.
The grieving onlookers refused to allow police to remove Kem Ley's body from the convenience store in an old ambulance, saying that the vehicle's age and decrepitude were disrespectful.
After a brief standoff, they won the day, and the commentator's body was placed in his own car and driven to a pagoda in Phnom Penh to undergo Buddhist rites.
Thousands of mourners marched down Monivong Boulevard, one of the city's busiest arteries, to accompany Kem Ley's body to its final resting place.