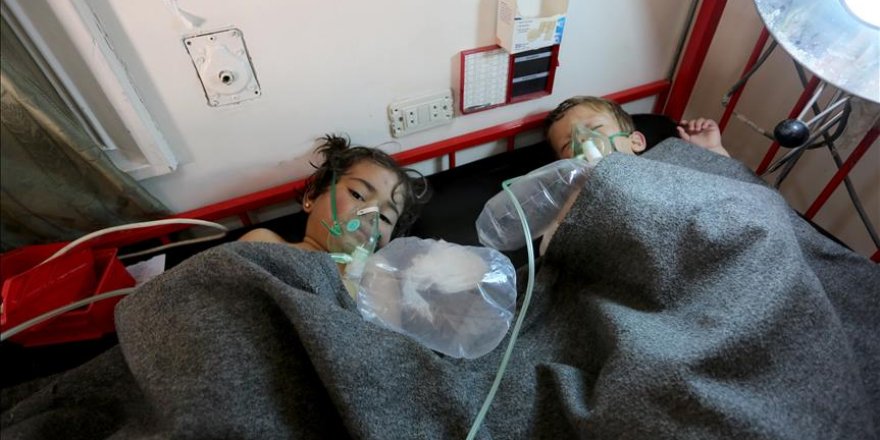 Regime chlorine gas attack kills 100 in Syria's Idlib
UK foreign secretary calls for investigation into chemical attack in Idlib
At least 100 people were killed on Tuesday when regime warplanes carried out a chlorine gas attack in Syria's northwestern Idlib province, according to Syrian opposition Health Minister Firas Jundi.
"The raids have left over 100 people dead and 500 civilians, mostly children, injured," Jundi told a press conference in Idlib.
Jundi said regime warplanes struck Khan Shaykun town in southern Idlib with missiles containing "poisonous gas".
"Many children were among the victims," he said, expecting the death toll to rise.
A local civil defense official earlier told Anadolu Agency a regime aircraft carried out a chlorine gas attack on the town early Tuesday.
Tuesday's attack came one day after a regime aircraft carried out a similar chlorine gas attack on Al-Habit town in Idlib, affecting dozens.
The gas attack was swiftly condemned by U.K. Foreign Secretary Boris Johnson.
"Horrific reports of chemical weapons attack in Idlib, Syria. Incident must be investigated and perpetrators held to account," he said on Twitter.
Syrian regime forces are believed to have launched gas attacks on opposition-held areas in recent weeks.
On March 30, 35 civilians were affected by a chlorine gas attack carried out by regime forces in Al-Qaboun near Damascus.
Last year, a UN-appointed investigation panel found that chemical weapons were used by regime forces and opposition fighters in 2014 and 2015. However, no actionable steps were taken.
Chlorine gas is one of several elements and compounds used in devastating chemical attacks, outlawed by international treaties. High level of exposure to the gas can cause suffocation as the chemical injuries in the pulmonary airways result in severe fluid buildup in the lungs, with children and seniors particularly vulnerable.
Since March 2011, the Syrian opposition has demanded an end to more than 44 years of Assad family's rule and the establishment of a democratic state.
The Syrian regime responded to the protests with military force, pushing the country into a vicious downward spiral of violence, bloody battles and a civil war that is still ongoing between the regime and opposition forces.
Since then, more than a quarter of a million people have been killed and more than 10 million displaced across the war-battered country, according to the UN.
The Syrian Center for Policy Research, however, puts the death toll from the six-year conflict at more than 470,000 people.