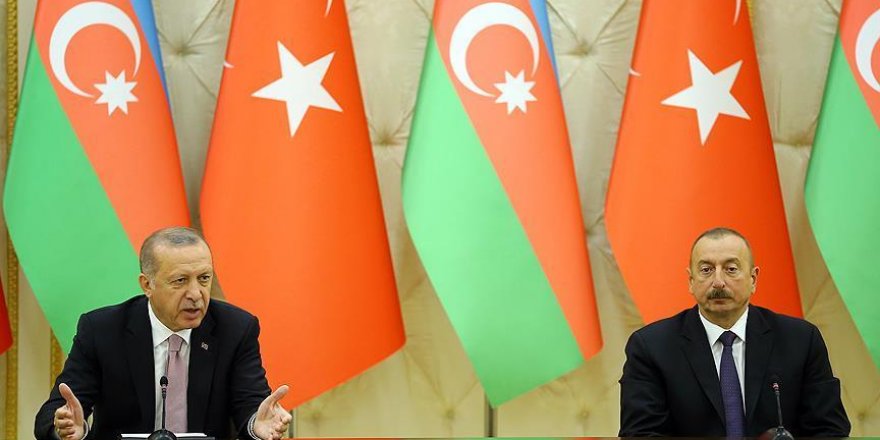 TANAP project vital for Turkey, Azerbaijan: Erdogan
Gas pipeline project is strategic investment, says President Erdogan on traditional visit to Baku after inauguration
The Trans-Anatolian Natural Gas Pipeline (TANAP) is a vital project for both Turkey and Azerbaijan, President Recep Tayyip Erdogan said on Tuesday. 
Speaking at a joint news conference with his Azerbaijani counterpart Ilham Aliyev in Azerbaijan's capital Baku, Erdogan -- fresh off his inauguration as Turkey's first executive president -- said: "TANAP is a vital project for both us and Azerbaijan".
TANAP, which went live in June, is a natural gas pipeline stretching from the Turkish-Georgian border to the Turkish-Greek border to supply natural gas to both Turkey and also European countries.
The 1,850-kilometer pipeline is the largest section of the 3,500-kilometer Southern Gas Corridor, which was inaugurated on May 29 in Baku.
Erdogan said the project has great importance in terms of making a connection between Azerbaijan and Europe, besides the connection between Turkey and Azerbaijan.
"It also carries importance in that it is a strategic investment," Erdogan said.
The president emphasized that Turkish-Azeri relations are strengthened on the basis of "one nation, two states," referring to the Turkic roots of both.
Erdogan's trip to Azerbaijan is his first state visit since Monday's inauguration to a second term, under Turkey's new presidential system of government, continuing the tradition of Turkey's leaders first visiting Azerbaijan and the Turkish Republic of Northern Cyprus (TRNC) after taking office. 
Turkey officially switched to a new presidential system of government after Erdogan on Monday took the presidential oath of office to become the Republic of Turkey's first president under its new government system.
His re-election in the June 24 polls marked Turkey's transition to an executive presidential system of government, doing away with the prime minister's post, among other changes.
Erdogan won an absolute majority in the presidential election with 52.5 percent of the vote, according to Turkey's Supreme Election Council (YSK).
Terrorism, trade, Nagorno-Karabakh
Speaking about FETO, the terror group behind the 2016 defeated coup in Turkey, Erdogan thanked Aliyev for supporting Turkey on the issue, praising mutual coordination, especially over schools run by the group.  
"I hope that we will have the chance to solve this problem swiftly with the cooperation of Azerbaijan's National Education Ministry and our Maarif Foundation," Erdogan said.
The July 2016 coup by the Fetullah Terrorist Organization (FETO) left behind 251 martyrs and 2,200 injured.
FETO is also accused of a long-running conspiracy to infiltrate Turkish institutions, partially bankrolled by FETO-run schools abroad. Turkey's Maarif Foundation is meant to transfer such schools into safe Turkish administration.
On Turkish-Azeri trade, he said the aim is to double or triple the current volume.
Aliyev, for his part, said Turkey and Azerbaijan will continue cooperation.
"Our joint activities will also continue afterwards. Our trading volume should rise," Aliyev said.
Stressing the importance of the TANAP project, Aliyev said Turkey and Azerbaijan have redrawn Eurasia's energy map.
"Our joint efforts are not only important for our countries, but for the whole region, for Eurasia," Aliyev added.
On the issue of Nagorno-Karabakh -- an Azerbaijani region occupied by Armenia -- Aliyev said Turkey supports Azerbaijan on resolution of the conflict.
"Turkey is the country which provides the biggest support to Azerbaijan in this regard," Aliyev said.
As part of his official visit, Erdogan also paid a visit to the cemetery of late Azeri President Haidar Aliyev and Turkish and Azerbaijani martyrs.