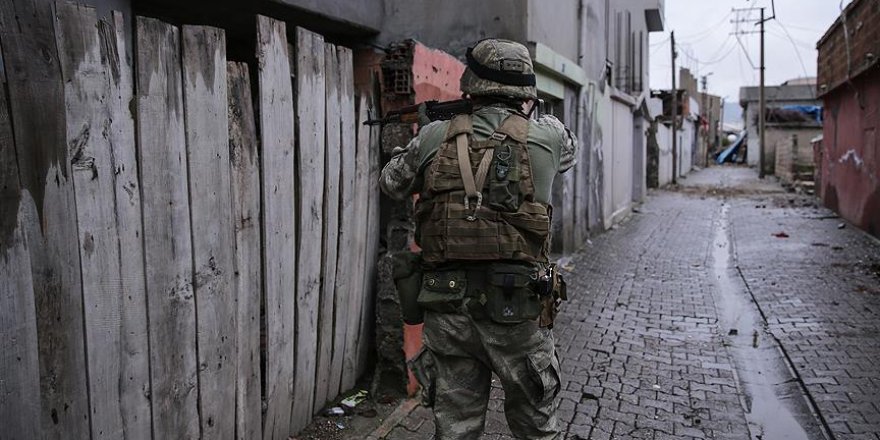 Turkish soldier succumbs to wounds in SE Turkey
6 terrorists also killed in various military operations in the country's southeast
A Turkish soldier was martyred during an anti-PKK operation in southeastern Diyarbakir province's Lice district on Friday, a military source said.
The soldier had succumbed to his wounds at the Selahattin Eyyubi State Hospital, the source, who spoke on condition of anonymity due to restrictions on talking to the media, said.
The operation against the PKK terrorist group continues in the area, the source added.
Turkish military also killed four terrorists in the district on Thursday, Turkish General Staff said in a statement Friday.
An improvised explosive device, two bomb-laden vehicles, 3,000 kilograms (6,614 pounds) of narcotics, large cache of guns and ammunition were also seized in the operation.
Also, a drug producer and dealer along with a terrorist supporter were captured, it added.
Moreover, Turkish Air Forces killed two terrorists in another operation Thursday in southeastern Sirnak city, the statement said.
Also, an improvised explosive device was destroyed in southeastern Adiyaman city.
In other operations, guns and ammunition were seized in Sanliurfa's Halfeti, two improvised explosives and suicide vest in Van's Saray and ammunition from six shelters in Bingol's Yayladere district.
The PKK -- listed as a terrorist organization by Turkey, the U.S. and EU -- resumed its decades-old armed campaign in July 2015.
Since then, PKK terrorists have martyred nearly 800 members of security forces and claimed the lives of over 310 civilians, including women and children, while more than 10,000 PKK terrorists have been killed or apprehended in army operations.