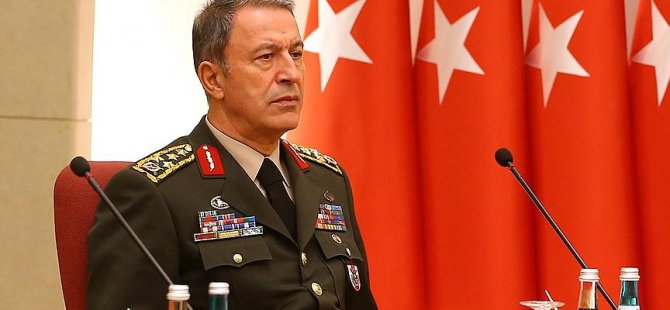 Turkish top general 'told to talk with Gulen' amid coup
Top general Hulusi Akar says he refused to speak with Fetullah Gulen while he was held hostage during coup attempt
Turkey's top general has said he was asked to speak with U.S.-based preacher Fetullah Gulen over the phone on the night of the July 15 coup attempt.

In a testimony given to Turkish prosecutors on Monday, Chief-of-Staff General Hulusi Akar said while he was held hostage by pro-coup soldiers, General Hakan Evrim, the commander of a main jet base, asked him to speak with Gulen, who the Turkish government says is the mastermind behind the coup attempt.

"Hakan Evrim told they can put me on phone with Fetullah Gulen, who he described as their 'opinion leader'," Akar said. "But I dismissed his offer instantly."

Akar said he "never even touched" the manifesto which the coup soldiers wanted him to read and sign to topple Turkey's democratically elected government.

"When they read their manifesto to me, I listened cynically and without any interest," Akar said.

"Those traitors even call their junta attempt as 'Peace at Home Council', they did not say anything about who are the members of their mentioned council," Akar said.

"I believe those coup-plotters are members of this organization [Fetullah terrorist organization]. I think they thought their organization would take a huge blow after our Supreme Military Council meeting in August -- in which we prepared for studiously," Akar said.

Other senior officers who refused to participate were taken hostage, including Akar, who was later rescued from the pro-coup soldiers.

Turkey's government has repeatedly said the deadly coup attempt on July 15, which martyred at least 246 people and injured more than 2,100 others, was organized by followers of Gulen.

Gulen is also accused of a long-running campaign to overthrow the state through the infiltration of Turkish institutions, particularly the military, police and judiciary, forming what is commonly known as the "parallel state".