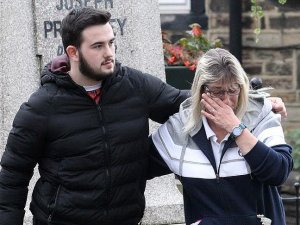 UK lawmaker murder suspect 'had links' to racist group
Thomas Mair, widely named suspect in Jo Cox shooting, reportedly purchased material from white supremacist National Alliance
The suspected killer of a British opposition lawmaker allegedly had links to a racist organization in the U.S. and, according to local media, possessed Nazi regalia in his home.
Thomas Mair, the 52-year-old man widely named by the U.K. media in connection with Thursday's shooting of Jo Cox, was named by an Alabama-based civil rights group as a supporter of the U.S. white supremacist National Alliance.
The Southern Poverty Law Center (SPLC) published records on its website showing that between 1999 and 2003, Mair sent $620 to the National Alliance for books and periodicals, including such titles as Chemistry of Powder & Explosives and Improvised Munitions Handbook.
It came as The Guardian newspaper and the BBC reported police officers searching Mair's home had found items of Nazi regalia and far-right literature.
West Yorkshire Police confirmed at a news conference on Friday afternoon that the suspect's links to right-wing extremism was "a priority line of enquiry which will help us establish the motive for the attack on Jo."
Possible links to mental health services were also a "clear line of enquiry which we are pursuing," acting Chief Constable Dee Collins said.
"Based on information available at this time, this appears to be an isolated but targeted attack upon Jo - there is also no indication at this stage that anyone else was involved in the attack," she said. "However, we will be investigating how the suspect came to be in possession of an unlawfully held firearm."
Collins said the suspect in custody had been deemed fit for interview by two specialist medical practitioners and detectives would continue to question him.
Cox, a Labour Party lawmaker, died after being shot and stabbed outside her constituency surgery in Birstall, northern England, on Thursday. Some witnesses reported hearing the male attacker shout "Britain first" or "put Britain first" - a possible reference to the far-right anti-immigration party Britain First.
Other witnesses said they did not hear those words and Britain First denied any link.
The National Alliance, described by the SPLC as "the once premier neo-Nazi organization in the United States", was founded by the late William Pierce, whose novel The Turner Diaries about a truck-bombing by white supremacists was thought to have inspired the 1995 Oklahoma City bomber Timothy McVeigh.