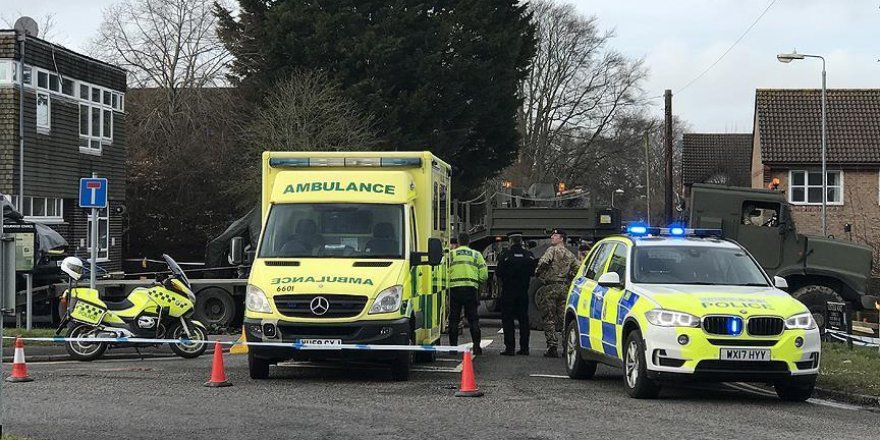 UK says Russia 'highly likely' behind ex-spy poisoning
Sergei Skripal and his daughter were poisoned with military-grade nerve agent of type developed by Russia, says Theresa May
It is "highly likely" that Russia is behind the attempted murder of ex-Russian spy Sergei Skripal and his daughter Yulia, British Prime Minister Theresa May said Monday.
"It is now clear that Mr. Skripal and his daughter were poisoned with a military-grade nerve agent of a type developed by Russia," specifically from the Novichok group, May said.
She told British lawmakers in a statement that the government has decided it is "highly likely" that Russia was responsible for the attack.
"That is because of what was used, and because of Russia's history of involvement in state-sponsored attacks of this kind," she added.
Skripal, 66, and his daughter Yulia, 33, were admitted to hospital after being found unconscious on a bench on March 4 in the southern English city of Salisbury.
Skripal was granted refuge in the UK following a 2010 spy exchange between the U.S. and Russia. Convicted by a Moscow military court of "high treason" after admitting to leaking information to British intelligence, he had been sentenced to 13 years in prison.
Emergency services said in an initial statement that they believed the father and daughter had been exposed to an unknown substance.
'Such a brazen attempt is intolerable'
Citing the positive identification of the chemical agent by expert government scientists, Britain's knowledge that Russia previously produced this agent and can still do so, Russia's record of state-sponsored assassinations and the UK's belief that Russia views some defectors as legitimate targets for assassinations, May said:
"The government has concluded that it is highly likely that Russia was responsible for the act against Sergei and Yulia Skripal."
"This attempted murder using a weapons-grade nerve agent in a British town was not just a crime against the Skripals," she added. "It was an indiscriminate and reckless act against the United Kingdom, putting the lives of innocent civilians at risk.
"And we will not tolerate such a brazen attempt to murder innocent civilians on our soil."
The incident has drawn comparisons to the fate of former KGB agent Alexander Litvinenko, who died in 2006 after drinking radioactive tea. Former KGB bodyguards identified as suspects in the murder denied any involvement.
May said Foreign Secretary Boris Johnson summoned the Russian ambassador to the Foreign Office, telling him that "the Russian Federation must immediately provide full and complete disclosure of the Novichok program to the Organization for the Prohibition of Chemical Weapons".
The Russian government's response was requested "by the end of tomorrow," May said.
UK-Russia tensions
Following May's remarks, British-Russian relations hit a new low.
"It is a circus show in the British parliament," Maria Zakharova, a spokesperson for Russia's Foreign Ministry, said shortly after May's statement.
"The conclusion is obvious: Another information and political campaign based on provocation," she added
Russia has denied any involvement in the poisoning incident.
"You'll figure it out for yourself first, and then we will discuss it with you," Russian President Vladimir Putin said prior to May's statement.
On Monday, the Russian Embassy in London accused the UK of playing a "dangerous game" with British public opinion.
"We would like to stress once again that we are outraged by the anti-Russian media campaign, condoned by the government, that influences the investigation and has a psychological effect on British residents," it said in a statement.
"Our compatriots and British nationals of Russian origin are worried about their future in this country. UK-based Russian journalists are receiving threats.
"The current policy of the UK government towards Russia is a very dangerous game played with the British public opinion, which not only sends the investigation on an unhelpful political track but also bears the risk of more serious long-term consequences for our relations."
U.S. stands with UK on Russia claim
U.S. Secretary of State Rex Tillerson said in a written statement Monday that the U.S has 'full confidence' that Russia is responsible for the poison attack.
"We have full confidence in the UK's investigation and its assessment that Russia was likely responsible for the nerve agent attack that took place in Salisbury last week," he said.
Tillerson said the U.S. is 'outraged' that Russia appears to have "again engaged in such behavior".
"From Ukraine to Syria – and now the UK – Russia continues to be an irresponsible force of instability in the world, acting with open disregard for the sovereignty of other states and the life of their citizens," he said.
Tillerson said that those responsible for this act "must face appropriately serious consequences".
"We stand in solidarity with our Allies in the United Kingdom and will continue to coordinate closely our responses," he added.