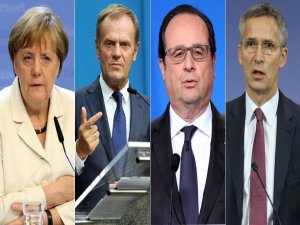 World condemns Istanbul airport terrorist attack
At least 41 people killed in attack at Ataturk International Airport
Leaders from around the world expressed sadness and anger Wednesday, following the overnight terror attack on Turkey's main airport in Istanbul that left 41 dead and more than 200 injured.
According to the Istanbul governor's office, at least 10 foreign nationals and three people with dual Turkish citizenship were among the fatalities.
Russian President Vladimir Putin expressed his condolences to victims' families during a meeting with Russian and German students. "We feel sorry for the victims of yesterday's terrorist attack and commiserate with their pain​," he said.
Hong Lei, spokesman for China's Foreign Ministry, condemned "this terrorist attack that targeted civilians" and ​​called on the international community to strengthen efforts against terrorism.
South Africa's President Jacob Zuma condemned the attack and sent his condolences. "South Africa stands firmly with the international community in condemning all forms of terrorism and stands in solidarity with the government of Turkey as they mourn the death of their citizens," he said in a statement.
Malaysian Prime Minister Najib Razak condemned the suicide bombings, describing the attack as a "heinous act" and called on Muslim countries to unite in combating terror.
"Malaysia stands firm and ready to unite with all countries in the fight against the scourge of terrorism," he said. In another social media post, he added: "I strongly urge Muslim nations to unite and increase cooperation, especially in condemning and combating the acts of terror by those who blaspheme the name of Islam."
South Korea's Foreign Ministry delivered its condolences to the victims, their families and Turkey, expressing "shock and worry" at the loss of innocent lives.
London Mayor Sadiq Khan paid tribute to Istanbul. "Sending love and support to the great city of #Istanbul. London stands with you in condemnation of this deadly atrocity", he tweeted.
Earlier, Prime Minister David Cameron said he was "appalled" by the attack. "Thoughts and prayers with all those affected," he said.
Belgian support
French Foreign Minister Jean-Marc Ayrault also tweeted his shock and pledged France's support while Belgium, which saw a Daesh-linked terror attack on Brussels' airport in March, also condemned the attack.
"Our thoughts are with the victims of the attacks at Istanbul's airport," Prime Minister Charles Michel said. "We condemn these atrocious acts of violence in Istanbul."
Albania's Foreign Minister Ditmir Bushati strongly denounced terrorism. His prime minister, Edi Rama, was nearly caught up in the attack as he flew into Turkey for an official visit.
"Strongly condemn terrorist attack in Istanbul Airport," Bushati said. "Our thoughts are with the victims and their families."
Egypt's Foreign Ministry denounced the attack and offered condolences to the Turkish people and the victims' families while the Muslim Brotherhood reiterated its support for the Turkish government and people in their "fierce battle" against terrorism.
The Qatar-based International Union of Muslim Scholars described he attack as "cowardly" and offered prayers for the injured.
Meanwhile, Dutch Foreign Minister Bert Koenders called his Turkish counterpart Mevlut Cavusoglu to extend his country's condolences.
In a statement, the Greek Foreign Ministry said it was "disgusted and appalled" by the latest attack. "We stand by our neighbors, our friends, against terror," it said.
Council of Europe Secretary-General Thorbjorn Jagland pledged the group's support in a Twitter post: "Our member state Turkey suffers another deadly terrorist attack. We stand by you in these troubling times."
In the U.S. the White House issued a statement condemning the "heinous terrorist attack". It added: "Ataturk International Airport, like Brussels airport, which was attacked earlier this year, is a symbol of international connections and the ties that bind us together."
'Murderous attack'
The State Department said the "murderous attack" would only reinforce American determination to "counter the scourge of terrorism and support all those across the region who are working to promote peace and reconciliation."
German Foreign Minister Frank-Walter Steinmeier said that he was shocked by the news. "Our thoughts go out the people of Turkey. Germany stands by them," he said.
EU foreign policy chief, Federica Mogherini, described the deadly attack as "another tragic terrorist attack in Turkey". She added: "The EU stands by the Turkish people. Our heart is with them all."
In Iran, Foreign Minister Mohammad Javad Zarif called for a global front against terrorism. "Terror rears its ugly head yet again in our friend and neighbor's airport," he tweeted. "Extremist violence is a global threat; we must confront it together."
Canadian Foreign Minister Stephane Dion said his country "stands with Turkey".
Saudi King Salman bin Abdulaziz Al Saud expressed his condolences to Turkish President Recep Tayyip Erdogan, the kingdom's official news agency SPA reported, while Indonesian President Joko Widodo expressed "deep sorrow" through Twitter.
Australia's Foreign Ministry issued a statement in which it said the country's "thoughts and sympathies are with the people of Turkey."
Pakistan's Foreign Ministry offered "heartfelt sympathies and condolences to the bereaved families and to the brotherly people and government of Turkey."
The statement added: "We stand in strong solidarity with the fraternal people of Turkey in their fight against terrorism. There is no doubt that this scourge would be decisively defeated with Turkey's iron will and unshakeable resolve."