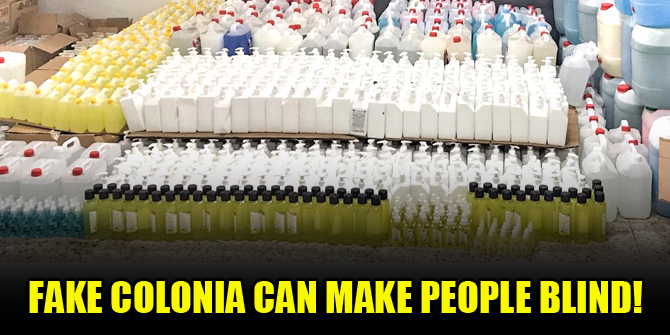 Fake colonia can make people blind!
With the coronavirus process, they are producing the fake cologne, which has become a part of most people's lives. It is noteworthy that there has been an increase in the production of fake cologne recently. Scammers use methyl alcohol instead of ethyl alcohol. At this point, experts warn! Methyl alcohol can cause death!
One of the most important ways to protect against coronavirus, cologne has been cheated. Scammers are putting lemon water on the market as cologne or using methyl alcohol in the content of cologne to play with people's health.
"YOU CAN UNDERSTAND FROM THE PRODUCT TRACKING SYSTEM!"
Tarhan Cologne Production Manager, Zühtü Işık, who informed that the product tracking system application downloaded from the mobile phone can be understood whether the product or the company is fake or not, said, "In order to distinguish between ethyl alcohol and methyl alcohol, we can check whether or not we have permission from the Ministry of Health. There is an application called ÜTS (Product Tracking System). You can download this application to your phone. When you open this program, you will see barcode reading. If the information of the product appears when you scan the barcode, it means that the product is registered with the Ministry of Health and has a permit. Each brand has its own unique barcode number. There is already an option in the application called barcode scanning. The application is also valid for food products, hygiene products. Citizens can check here whether a product is counterfeit or not. They should also check whether the companies from which they buy cologne are well-established companies. We have been in this market for 35 years ".
DIFFERENCE BETWEEN ETHYL ALCOHOLED METHYL ALCOHOL?
Zühtü Işık, referring to the difference between ethyl alcohol and methyl alcohol, said, "Etenol alcohol is an alcohol of agricultural origin since it is products made from sugar beet, wheat, corn and agriculture. It does not cause any irritation to the skin and eyes. It is completely healthy. Anyway, the alcohol we use is k1 b1 alcohol. It is alcohol that is applied before making serum in hospitals. The liquid ethyl alcohol is also used to disinfect surgical materials. It is K1 certified ethyl alcohol. We are making cologne from that ethyl alcohol. It is the most expensive and best quality cologne on the market. If a person has allergies, skin ailments, methyl alcohol definitely increases skin diseases and causes poisoning when it comes into contact with the eyes and mouth. It goes up to death. Because methyl alcohol is completely chemical. They also make the fake drink from methyl alcohol, and the fake drink caused many deaths. Both the Ministry of Health and the Ministry of Internal Affairs are struggling with them ".
"METHYL ALCOHOL CAN MAKE THE EYE BLIND!"
Pointing out that methyl alcohol can cause serious problems, Işık said: "If a cologne is cheap, there is definitely something in it. For example, a can of cologne is 25 TL. If a canister is sold for 13-14-15 liras with a difference, you can understand that it is fake. Methyl alcohol can blind and irritate the eyes. It is made of chemicals. It is not made of a substance grown from the soil. Methanol alcohol is an alcohol made from chemical components. This is completely harmful. There are some technical details to tell if a cologne is fake or not. You will pour our cologne on your right hand in an environment with a room temperature of 20-25 degrees. At the same time, you will pour a cologne made of methyl alcohol on your left hand. You will feel a deep cold in your left hand. Your hand will be cold. Because methyl alcohol dissolves in the skin. Also, the essence in ethyl alcohol does not melt. No matter how much essence you pour into methyl alcohol, no matter how much you pour at 80 degrees, methyl alcohol will not melt at 100 degrees. Because the essence is made entirely from agricultural. The essence of lemon cologne is made from lemon, lemon peel. This is an agricultural product. You also dissolve the agricultural product from agricultural wheat, and ethenol made from sugar beet. In other words, it solves agricultural agriculture. When you throw the agricultural chemical into the chemical, that is, when you throw the methyl into the ethyl, it does not dissolve.
CHEAP COLOGNE IS MADE WITH METHYL ALCOHOL
Stating that alcohols are generally coming from Europe and their checks are made, Işık said, "There are 900 mm drums. There is a little space at the top of the bin. When you tilt it slightly, you will see that the bin turns yellow. Make him the color of the essence. Because methyl alcohol doesn't melt. We check every tank that comes to us. We check whether the cologne is made of ethyl. In other words, there is no problem where we buy it, but generally alcohol comes from Europe. It is Brazil, Italy, Bulgaria, we control the alcohol from here. As Tarhan cologne, we give our cologne to pharmaceutical warehouses, municipalities and institutional places ". Işık said, "I think that colognes that use methyl alcohol have recently come to Konya from companies outside of Konya. The guys set up the system in such a way that they made 9 brands. It uses 9 brands of methyl. Citizens should not consider whether the product is cheap or not. Price is not considered in health. He ended his words by saying, "The water of cheap meat will be black or the alcohol of cheap cologne will be methyl".
SÜMEYRA KENESARI / YENİ HABER