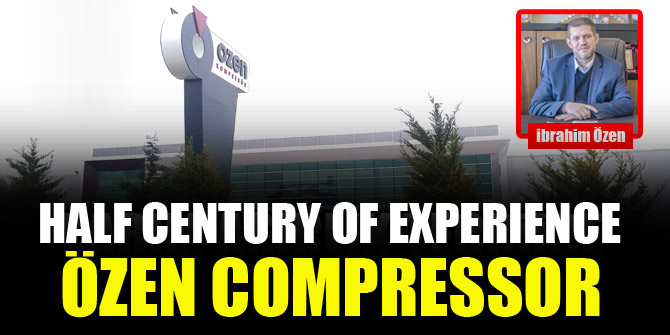 Half century of experıence Özen Compressor
Celebrating its 50th anniversary in 2020, Özen Compressor has been manufacturing industrial machinery for half a century.
Celebrating its 50th anniversary in 2020, Özen Compressor has been manufacturing industrial machinery for half a century. Noting that their innovative and customer satisfaction-oriented work are their most important strength, İbrahim Özen, Chairman of the Board, explained the performance and future goals of their companies to Yeni Haber.
Your company, whose industry culture is quite old, is celebrating its 50th anniversary this year. Could you tell us about Özen Compressor's 50-year industrial history?
Founded by my father Mehmet Özen in 1970, Özen Compressor started its half-century industrial machinery manufacturing adventure by manufacturing welding machines and air compressors. By following the developing technologies and needs, we manufacture and install compressed air equipment in our factory equipped with world-class equipment.
Our company's innovative and customer satisfaction oriented work together with half a century of industrial experience transferred to the second generation; the most important force behind our reliable, durable and efficient products. As Özen Compressor, we increase the productivity of our customers with our rich product range consisting of low and medium pressure piston and screw compressors, screw booster compressors, air dryers, air tanks and air accessories.
The pandemic process experienced this year has revealed new working systems, especially in the industry. You have probably had some trouble too. How do you evaluate this process?
This year has been an extraordinary year for Özen Compressor, as in the whole world. We took all necessary measures to minimize the effects of the pandemic process. Since compressed air is used in all sectors, we can say that we are less affected by this process compared to other sectors. We continued to provide and produce our service-maintenance services to our customers by taking all our precautions. We ensured our customers to continue production without interruption.
The disruptions in the supply chain during the pandemic process led to the search for alternative suppliers all over the world. Situated between Europe and the Middle East, our country has been a good alternative in this process with its geopolitical position and value-added products it produces. the choice of Turkey as a supplier of products and create momentum. As Özen Compressor, we realized our goals and expectations. I think the growing importance of Turkey in the supply chain.
There is an increase in Turkey's exports and this increase was more pronounced in Konya. What is your business abroad, what is your investment in America, what would you say about this?
This year, a pandemic effect was observed in exports. The cessation of cross-border trade in many countries affected all industries. However, the acceleration in exports in the following process enabled us to progress in our foreign trade targets. Despite all the negative developments in the American market, we have reaped the fruits of the work and investments we have made in the past years. Özen Compressor products have found a place in the American market with their durability, reliability and 50 years of industry experience. As is known, the American market is one of the most difficult markets in terms of legal requirements and structure. With our products that meet all the requirements of this market, I think the momentum we have achieved in the coming years will increase.
Turkey is seriously competitive position in the European industrial products. Our country is in the position of a country that can give very good prices at the moment. What should be the goals in the new period taking these two factors into account?
With the Kovid-19 outbreak, all concepts related to global trade began to be discussed again. As I mentioned earlier, our geographic location as Turkey, our ability to manage crises, we're with our production capacity and an advantageous logistics network. In addition to new industrialization models where technology will become more prominent, we have entered a period in which new strategic partnerships and searches in the supply chain will come to the fore. We must adapt our entire production process to technology, determine the strategic sectors in production, and focus on the production of products with high added value. I believe that we will be an important player in the competition with the support that the state will provide to the production sector and R&D.
As Özen Compressor, have your goals for 2020 been realized, what are your next targets, on which axis will your investments be?
Despite all the negativities experienced in 2020, it was a year that we reached our goals as Özen Compressor. This year, we added the OSC DS direct coupled frequency inverter screw compressor series to our product range. Designed to meet the expectations of industries operating under harsh and intense conditions, this series stands out with its quieter, more efficient and longer life. This product ensures that the energy (kW) consumption (specific power) per unit consumption (flow) is brought to minimum levels, especially in industries operating with intensive and high flow rates. This product, which is used in large projects, has also been appreciated by our customers. We can say that our top priority and goal in the upcoming period is to analyze the needs of the market and our customers correctly and to continue to offer products that will increase their efficiency.
MACİT ULUÇAMLIBEL / YENİ HABER