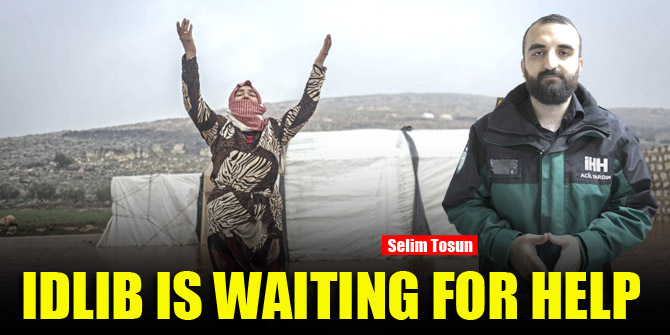 Idlib awaits help
The torrential rains, which were effective in the countryside of Idlib, Syria, caused floods in the makeshift tent camps established by the local people with their own means.
The torrential rains, which were effective in the countryside of Idlib, Syria, caused floods in the makeshift tent camps established by the local people with their own means. Thousands of asylum seekers who have suffered from the effects of winter conditions are waiting for help. Saying that they came to the aid of the civilians affected by the flood, Selim Tosun, Media Officer of IHH Syria Studies; He said that the area needs tents, blankets, food supplies and heating equipment.
IHH Humanitarian Relief Foundation provided tents, food parcels, sponge beds, blankets, coats, boots and boots to a thousand families whose tents became unusable due to floods. Selim Tosun, Media Officer of IHH Syria Studies, said that they came to the aid of civilians affected by the flood. Explaining that they delivered various aid materials to the families of the victims, Tosun said, "The main problem of the victims in this process is that they were established in a makeshift state. During the migration crisis that took place in Idlib last year, these tent camps, which were established by families with their own means, are unfortunately not suitable for bad weather conditions. . " he spoke. Stating that the makeshift tent camps should be transferred to more sheltered lands, Tosun said, "In this sense, we attach great importance to our briquette house project that we implemented last year. Thanks to the project, we have improved the living standards of the families and have a wall on which they can lean back." used the expression. According to preliminary findings, 110 tent camps inhabited by at least 50,000 civilians were flooded in the province of Idlib as a result of the heavy downpour.
4 MILLION PEOPLE LIVE IN THE REGION
Stating that around 4 million people live in the region in total, Tosun said, "Approximately 2 million of them currently live in makeshift camps. Almost everywhere in rural Idlib is rural and agricultural land. Since all attacks and migrations are in this region, the number of camps in this makeshift condition is also high. With the effect of this, the camps experience this problem during rains or similar natural disasters. Since these people cannot find shelter when they come, they find agricultural land where they can take shelter. There is no possibility that the agricultural land they find will not be affected by natural disasters. Because of the lack of infrastructure, migrations and grievances occur, "he said. Stating that there is a need for fuel, stoves and consumer goods in Idlib, Tosun said, "Right now, the people who are victims of floods need tents. They urgently need tents, cement and again things like stoves, blankets, carpets, mats, searchlights. Dry legumes and food type materials are a serious need for hot food production, flour is needed for bread production. Products such as wood, coal and stoves are required for heating. Again, materials such as coats, boots, boots are also needed from clothing products. If these are met, people will hopefully breathe for a few more months until the beginning of summer ".
"AIR TEMPERATURE FALLS TO 3 DEGREES PER NIGHT"
Stating that the air temperatures in Idlib are minus 2-3 degrees at night, Tosun said, "Tents are mostly made of canvas. These also spend a lot of cold in the winter. Even if people burn the stove, other problems arise with it. If they do not take action, the stoves can burn the entire tent and tent city. We have experienced such events recently. Alhamdulillah, the projects carried out by NGOs met the needs of people, but it is not possible to reach all of them. Those who are victimized here are also people we cannot reach. We strive to get these people out of this land and transfer them elsewhere. "We want to be able to save these people from here and transfer them to the houses with the briquette house project."
"DRAMATIC IMAGES"
Stating that more than 100 thousand people moved to briquette houses thanks to the briquette house project, Tosun said, "In this way, the number of dramatic images has decreased a little more. In the meantime, people showed an interest and interest in Syria that really dramatic images were formed. Along with this, the donation circulation also increased. More work is being done, but it is not possible to completely eliminate all grievances. Last year's attack was the joint attack of three superpowers. One of them is Russia, one is Iran, the other is Lebanese Hezbollah. They carried out operations aimed at killing civilians. These people also left their lands and came here. Whether it is our coat, our boots, our boots, they obviously do not have situations to think about it. this life we ​​can also help people götürmesek as aid organizations in Turkey will continue to live like this. "It is a big thing for them to even wrap a plastic bag around their feet."
SUPPORT IS WAITING
Stating that the people of Konya have always come to the forefront with their benevolence, Tosun stated that they are also waiting for help to eliminate the grievances in Idlib and said: Since the beginning of the current crisis in Syria, Konya has already exhibited the example of brotherhood that has been required until this time. Konya has shown an admirable situation so far. Hopefully, we expect the continuation of Konya's support in the next period. People here are waiting for the support of people of good conscience in Turkey. If there is no support from other provinces such as Konya, people here face the situation of freezing to death in the camps they came from under the bombs. For this reason, they need the support of philanthropists from Konya in order for these people to live a more prosperous life.
SEYFULLAH KOYUNCU / YENİ HABER