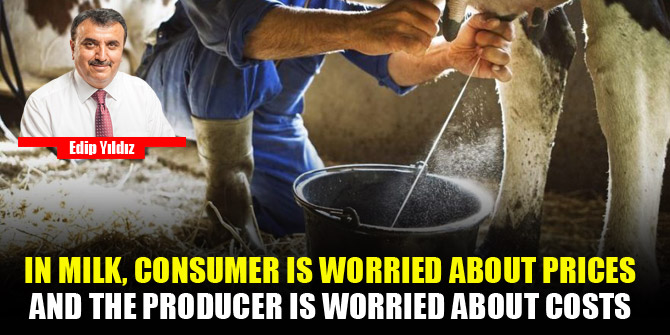 In milk, consumer is worried about prices, and the producer is worried about costs
The National Milk Council has updated raw milk prices for 2021. According to the update, a raise of 50 kuruş per liter was made on raw milk. Stating that the price hike did not cover the production cost, DSYB President Edip Yıldız stated that the producer was not satisfied with this situation.
Stating that the National Milk Council's announcement of a 50 kuruş increase in milk for 2021 is not possible to satisfy the producer, Edip Yıldız, the head of the Breeders and Cattle Breeders Association, stated that the cost of many inputs, especially feed, has increased and the price of milk does not change at the desired rate.

"22 PERCENT INCREASE IN MEAT PRODUCTION COST"
Commenting on meat and milk costs, President Yıldız said, "In our country, between November 2019 and December 2020, milk sales price did not change in approximately 13 months, but production costs increased by 36.1 percent. Likewise, while there was no significant increase in red meat prices in the same period of the year; There has been a 22 percent increase in the cost of meat production. Despite the increase in all inputs since November 2019, the only product whose price has not changed was raw milk. According to the calculation of the National Milk Council, the cost of November 2020 was 2.64 TL, while the announced price remained at 2.80 TL. "Compared to last year, the gap between costs and price has narrowed and our farmer will continue to lose at this price."
"THE ANNOUNCED PRICE WILL NOT EXCEED THE CUT OF COW"
Stating that the announced price will not prevent the cutting of dairy cows, Edip Yıldız drew attention to the fact that the farmer cannot pay his debt. Yıldız continued as follows: "As Konya DSYB, we revised the milk price to 3 TL with an additional premium support of 20 Kurus over the reference price of 2.80 TL as a result of our meetings with the dairy industrialists in order to give a little breath to the producer who is crushed under the input costs. In this way, we are in an effort to stop the cow slaughter until the next reference price is announced. We have always put our hands under the big stones yesterday and today for our producers so that our growers do not stop producing and not to be offended by the sector. However, against the continuous increase in feed prices, which constitute the most important input cost of animal production, Türk Şeker A.Ş. With the protocol we signed with, we strived to supply quality feed to our producers at an affordable price. "
"KONYA IS FIRST IN PRODUCTION"
Stars, Konya, 50 thousand 403 cattle operation, 1 million 279 thousand 618 pieces of cattle is 352 thousand 871 pieces of dairy rootstock cattle and monthly average 106 thousand 683 tons of milk production with milk production in Turkey and the presence of animals first stated that he was ranked. Stating that as the Cattle Breeders Association of Konya Province, they provide price stability with 870 tons per day in order to increase the value of the products produced by the producers, Yıldız said, "We deliver healthy products with 13 kinds of quality dairy products we produce in our milk and dairy processing plant with a daily production capacity of 80 tons. In addition, we continue our investments. We are bringing our milk powder production facility to our region. In our facility, we will process 250 tons of raw milk and obtain milk powder. "We will provide added value to raw milk by utilizing a significant portion of the milk we collect from our producers in the facilities we have established with our own capital."
"WE WILL OFFER HEALTHY MEAT PRODUCTS TO SERVICE"
Stating that they will offer healthy meat products to the service of consumers, Yıldız said, "When our integrated meat facility is completed, we will offer healthy and quality meat and meat products to our consumers with 100 pieces of halal cattle per day. Our farmers will benefit from the raw milk analysis we will perform in our newly opened laboratory and the additional raw milk support planned by our ministry and will be implemented in all provinces as of 2022. Our laboratory will be at the service of our members for milk analysis support for breeding, which is currently being implemented. In this way, the milk quality of the regional enterprises will be determined and our breeders will receive more support ".

"PANDEMIC PROCESS FORCED TO CHANGE"
As in the whole world with the pandemic process said Turkey in a new process and change the destination Stars, "experienced negativity and the measures taken as a result it has inflicted great losses on economic and our social structure. As Konya Province Cattle Breeders Association, we make every effort to ensure that our breeders overcome this process with the least damage. The negativities experienced with the pandemic also deeply injured the agriculture and livestock sector and left our producers in a difficult situation. In addition to the stagnation in meat and milk prices, the excessive increase in hay and feed prices has also victimized our producers one more time. With the pandemic process, the tourism, wedding and restaurant sector came to a standstill, and as a result, the decrease in the use of meat put our producers in a difficult situation and led the producer to withdraw from this business ".
SÜMEYRA KENESARI / YENİ HABER