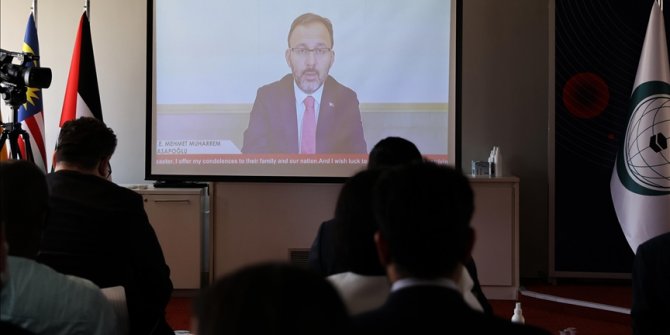 Islamophobia hinders coexistence of diverse cultures, says Turkish official
2-day international seminar on 'Youth Global Action Countering Islamophobia' begins in Istanbul
Islamophobia is the main weapon of those trying to illicitly link Islam to terrorism, stymie the coexistence of diverse cultures, and turn fascist rhetoric into political movements, said a top Turkish official at an international seminar on Islamophobia which began in Istanbul on Wednesday.
The Islamic Cooperation Youth Forum (ICYF) organized the two-day seminar "Youth Global Action Countering Islamophobia," where a host of international officials and experts are discussing strategies to combat Islamophobia, particularly among Muslim young people.

In a video message sent to the event, Mehmet Muharrem Kasapoglu, Turkey's youth and sports minister, said the forum has been doing extensive work to educate young people about the global problem of Islamophobia.
"Islamophobia is the main tool of the people who try to link Islam with terrorism, deprive different cultures of coexistence, and turn fascist speeches into political activity," said Kasapoglu, currently in Japan to attend the Tokyo 2020 Olympics.
"We see that this mechanism is sometimes used even by countries which call themselves the most liberal and democratic countries," he commented.
Role of mass media
Noting that mass media carries great importance on the issue, Kasapoglu said: "The role of media in the spread of Islamophobia is an indisputable fact."
"Societies' prejudices are being spread, especially through popular culture industry. Therefore, we should take a stand against especially the disinformation produced by the media," he added.
Kasapoglu said Turkey's Youth and Sports Ministry "pays a lot of attention to this matter and launches projects to raise awareness of Islamophobia among young people."
"Farkindayiz (We Are Aware, www.farkindayiz.gov.tr) is one of our most prominent projects for this," he explained.
"In it, we enabled our youth to spot Islamophobic contents found in movies, cartoons, music videos, and computer games on the internet."
Education
According to Kasapoglu, education is also an important area in the fight against Islamophobia.
"Our ministry keeps its doors open to the education-oriented projects of international organizations through its youth centers and youth camps.
"The Youth Forum has recently carried out important educational programs in order to tell about the effects of Islamophobia and encourage young people to do their part in the process," he added.
The ministry, in league with the forum, holds annual media training camps to raise awareness of the fight against Islamophobia, Kasapoglu said.
"Additionally, the ministry used a presentation to educate more than 7,500 young people all over the country," he said, adding that Turkey is working to boost the number of academic researchers on the subject.
Cooperation and Islam's true values
Kasapoglu also stressed the importance of "closer cooperation and enriching this cooperation with new projects."
"Cooperation and communication are extremely important," he said, adding: "We should take a common stance with a common language and adopt a common attitude."
"We should explain the real values of Islam and strive to emphasize the values respecting human rights and differences which are constantly underlined by Islam," he said.
Kasapoglu said young people are often among the groups hardest hit by Islamophobia and that "we can overcome the discrimination Muslim young people are facing through uncompromising policies towards equality and human rights."
Muslim youth feel Islamophobia's sting
Attending the event virtually, Farhad Hajiyev, Azerbaijan's deputy youth and sports minister, said one of the most challenging issues facing Muslim youth is countering Islamophobia.
Hajiyev said most Muslim youths feel the sting of Islamophobia. Young Muslims are often victims of discrimination and social exclusion on different levels of society, and they have developed deep concerns about rising prejudice against Muslim communities in Europe and North America.
"Consequently, youth should be aware, educated, and involved in preventing Islamophobia and upholding the values of respect for cultural and religious diversity and nondiscrimination," he added.
"Our future, the future of humanity, and that of our planet lie in our hands. It lies also in the hands of today's younger generation who will pass the torch to future generations. The only way to prosperity is through connection and unity, and most importantly, active youth with strong voices," he said.
Hajiyev explained: "Young people have proven to be resilient in various ways, and they are using their innovations, networks, and collaborative actions to achieve a better tomorrow for us all and future generations. We need to continue to be creative, inspired, innovative for the sake of a bright future for all."
Founded in 2004 in Baku, Azerbaijan, the Islamic Cooperation Youth Forum is, according to its website, "an international, non-commercial, non-partisan organization uniting leading umbrella youth organizations from the Member-States of the Organization of Islamic-Cooperation (OIC) as well as international youth organizations, operating in the OIC region and youth organizations representing significant Muslim minorities worldwide."
Sharp rise in Islamophobic, racist, and hate attacks
Taha Ayhan, the forum's head, hailed the ceremony kicking off the event, ushering in a panel and three brainstorming roundtable discussions.
"With Islamophobic, racist, and hate attacks on a sharp rise in Europe and North America, it is more important than ever before to find solutions towards peaceful communities and to improve the well-being of our youth who suffer from trauma and identity issues as a consequence of rising waves of Islamophobia," Ayhan said.
According to Ayhan, most Muslim youths are directly tormented by Islamophobia. "Young Muslims are often victims of discrimination, racism, economic and social exclusion on different levels within society. Many of them develop deep fears and real concerns about the increasing prejudice against Muslim communities in Europe, North America, and other parts of the world."
Ayhan also called on "governments and international organizations to join the action through stronger cooperation, synergized efforts, and forming practical and effective networks to counter islamophobia."
"We think that institutions worldwide can meaningfully engage in all forms of dialogue, exchange of experiences, and cooperation on fighting Islamophobia and relevant issues under this Youth Global action for Islamophobia led by the ICYF and partners, making big leaps and paving the way for real solutions," he added.
Saqlain Javed, the head of the OIC-Independent Permanent Human Rights Commission of the Organization of Islamic Cooperation (OIC), stressed that with the advantage of technology and media, young Muslims today can play a very vital role to foster a culture of peace, spread a positive image of Islam, and overcome the ignorance and fear of Islamophobia.
Waves of discrimination, xenophobia, hatred of Islam
Cenk Uraz, the deputy director-general of OIC affairs at Turkey's Foreign Ministry, decried the "rising trend of discrimination, xenophobia, hatred of Islam, and racism all over the world which constitutes the biggest threat to peace and harmony in our societies."
According to Uraz, due to certain political and legislative initiatives, "Islamophobia has become institutionalized and legitimized as seen in legal attempts to ban minarets, call to prayers, and wearing headscarves."
"Discriminatory practices in employment, education, and social life negatively affect migrant communities in non-OIC countries and hinder their participation in the societies where they live," he said, adding that young people are among the biggest victims of these acts.
Pointing to a growing number of hate crimes targeting immigrants in host countries since the COVID-19 pandemic started, Uraz said: "With the majority of Muslim migrants in Europe, Turkey is experiencing the bitter face of this problem closely."
"Unfortunately, migrant issues are handled in a lot of European countries from a security point of view," he said. "Migrants should be seen as a cultural and economic enrichment of society, not a security threat."
Highlighting that Turkey leads and supports international efforts to raise awareness and combat Islamophobia, Uraz said that Turkish President Recep Tayyip Erdogan and Foreign Minister Mevlut Cavusoglu "seize every opportunity at national and international forums to address the importance of combatting Islamophobia."
For her part, Fadile Grine, a senior advisor to the forum's president, said that Muslim youth worldwide suffer deeply and are tormented from all sides by discrimination and stigmatization/exclusion in all areas, such as employment and education but also from racist violence and hate speech that is "spreading like fire," especially on the internet.
"That's why young people are the most affected by those hate attacks on Muslims, simply for their religion or that color, simply because they are different," Grine added.
"We think that Islamophobia is a form of racism, and hate crime. Young people have been heavily subject to Islamophobia, affecting their well-being, and mostly that identity," she said.
Fsahat Ul Hassan, a representative of Youth Advocacy Network (YAN), thanked the organizers for the "very timely huge global action company against Islamophobia."
"Islam has been portrayed as an exaggerated fear, hatred, and hostility towards the mass population, and Muslims are represented by negative stereotypes, resulting in bias, discrimination, and marginalization and exclusion of Muslims from social, political, and civic life," he said.
Ahmet Sareer, the director of Asian affairs on behalf of the OIC secretary-general, said Islamophobia is understood by various people in different ways.
Many see it mostly as incidents of discrimination, while others see it as a form of action and discrimination, meaning anti-Muslim action or anything similar to discrimination.
The OIC has been using a working definition saying that Islamophobia can be understood as a fear of Islam and any object or practice associated with Islam, such as mosques or the holy Quran, he underlined.