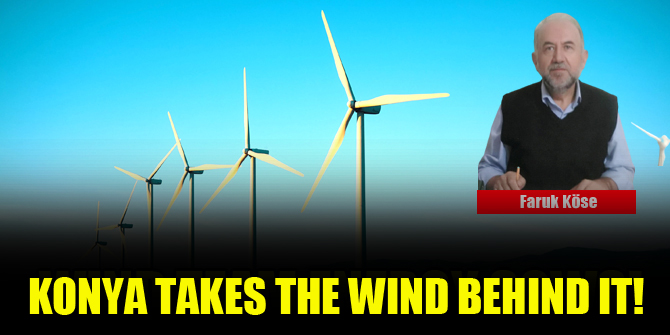 Konya takes the wind behind it!
Over the past day Turkey daily production record for wind power broken, passed the total initial default all other renewable sources of electricity from wind day.
Over the past day Turkey daily production record for wind power broken, passed the total initial default all other renewable sources of electricity from wind day. Energy and Natural Resources Minister Fatih Dönmez announced that two records in wind energy were broken on November 25. According to the statement, the highest daily electricity generation from wind was reached with 153 thousand 35 MWh. Konya Technical University Faculty of Engineering and Natural Sciences Mechanical Engineering Department, Energy Department Faculty Member Assoc. Dr. Faruk Köse said in a statement on the subject that Konya's claim to wind energy has a certain capacity with many in Anatolia.
Fatih Dönmez, Minister of Energy and Natural Resources, stated that the record was broken again in the production of electricity from wind on November 25, "Our wind surpassed the total production of all renewable resources for the first time in history." used the expression. Expressing that investment can be made in wind energy production in Konya, Assoc. Dr. Faruk Köse said, "I am of the opinion that investment can be made in Konya for both power generation plant and power plant equipment production. Because, in a research and Konya industry survey study we conducted with the support of Mevlana Development Agency and Konya Chamber of Industry in 2012, Konya industry has the infrastructure to produce all renewable energy system equipment such as wind and hydroelectric, solar, geothermal and biomass. "it was concluded that it was."
'ONE-YEAR PRODUCTION IS IMPORTANT'
Referring to the fact that it is normal to have high electricity generation from wind energy on some days when wind speed is high, Köse said, "One year production is important in renewable energies such as wind and solar. It is realistic to compare total productions for one year. What is meant by alternative energy sources mentioned here are hydroelectric, wind, solar and geothermal power plants which are renewable energy sources. General equipment can be in the first 5, as there is also hydroelectric that can hold a large proportion of these. However, if evaluated in terms of wind turbines alone, I think it cannot be in the top 5. Because I know that the wind turbine electronic and mechanical parts and the wind turbine as a whole, which are among the most expensive equipment of wind power plants, have not yet been built in our country. In terms of domestic wind turbines, the MİLRES project was initiated 8-10 years ago with the coordination of universities, government and private sector, and the first 500 kW turbine was to be built, I know that this turbine has not yet been put on the market. Apart from this, it has been observed that some parts such as wind turbine tower, generator, gear box are also produced locally in our country for a long time.
"IF WPP INSTALLATION IS DONE, THE COVERAGE RATE WILL INCREASE 10 FLATS"
Touching upon Konya's share in wind energy production, Assoc. Dr. Faruk Köse said, "The total installed power of 3 wind power plants in and near the Ankara road is 173 MW and is less than one-tenth of the installed capacity of 1860 MW, which is the determined capacity of Konya by the Wind Energy Potential Atlas, shortly called REPA. With this 173 MW WPP, the annual total electricity generation values ​​are 448,416.0 MWh / year for a capacity factor of approximately 30 percent, and it will be able to produce 7.5 percent of the 2011 Konya electricity consumption of 5,942,419 MWh. If the installation of 1860 MW RES determined by REPA can be made, the coverage rate will increase by approximately ten times to 75 percent. In addition, it is estimated to be 2,249,117 people according to the previous years increase rate, and it can be assumed that there are 449,823 households in total by taking 5 people in a household. With the 448.416.000 kWh electricity to be produced with 173 MW existing WPP, the electricity energy of 224.208 households will be met by using 2000 kWh per household annually. It shows that approximately half of the houses in Konya of this value can be supplied with electrical energy with 173 MW RES ".
"IT CAN UP TO TWO SOLID VALUE"
Köse made a statement on the locations where wind energy is produced in Konya, and with two projects supported by the Scientific Research Projects Coordinator between 2000 and 2007 in the Selçuk University campus area, 20 m high in 2000 and 40 m high measurement systems in 2005 and the region's wind energy stated that its potential was measured and investigated. According to the research, Köse stated that the annual average wind speed value of the campus region was determined as 6 m / s at a height of 40 m, and that the wind turbine, which can be installed at a tower height of 80 m, obtained capacity factors between 30 percent and 40 percent with wind turbines suitable for medium capacity regions. Köse also added: "Between 2005 and 2017, a company that produces automotive spare parts in Konya center and a cooperative firm in Çumra district was provided with a consultancy on wind energy measurement and licensing. Consultancy was provided during the installation of a 500 kW wind power plant in the İlmenler region of Hüyük district and the installation of the power plant was provided. Campus wind measurement data and REPA map according to the map that shows the proper place using data from Konya province to 4000 MW Wind Power Plant (WPP), this value is determined can be established in 2019 is the half of Turkey's total RES installed capacity. With a more detailed research, I estimate that it can rise to double values. "
"KONYA'S FUTURE IN WIND ENERGY IS BRIGHT"
Emphasizing that large installed powers can be reached in Konya, Köse said, "Considering the establishment of a wind power plant and power plant, it can be installed by obtaining a generation license, or only according to the unlicensed regulation, which is to sell its own consumption and excess consumption to the state or private sector, by obtaining permits. . However, obtaining licenses and permits requires a certain amount of time and cost. I am of the opinion that with the development of a certain potential and wind turbine technology that can be established in Konya, turbines that can operate efficiently at wind speeds of 5.5-6.5 m / s will be developed and larger installed powers can be reached "
SÜMEYRA KENESARI / YENİ HABER