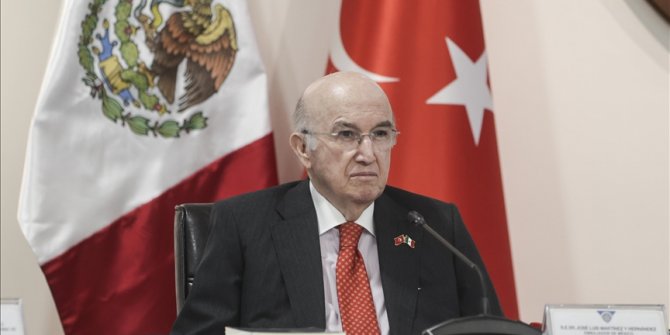 Mexican envoy highlights multifaceted, historical ties with Turkiye
'Mexico can help Turkiye with exploitation of newly discovered natural gas reserves in the Black Sea,' says country's ambassador
Mexico's relations with Turkiye are not only cordial but also long-standing and deep, the country's ambassador has said.
Jose Luis Martinez y Hernandez highlighted his country's multifaceted and historical ties with Turkiye in an exclusive interview with Anadolu Agency.
The first official contact between the Ottoman Empire and Mexico was in 1864, when Emperor Maximilian I sent Leonardo Marquez and Pablo Martínez del Rio as envoys to the Ottoman Empire, he noted.
In May 1927, not too long after the formation of the modern Republic of Turkiye, the Friendship Agreement was signed, which entered into force in July 1928 and laid the foundation of the contemporary excellent relations between the two countries, Hernandez further detailed.
He said bilateral relations gained a particular impetus in the last decade, and 2013 was a milestone.
That year, President Enrique Pena Nieto became the first Mexican head of state to pay a visit to Turkiye and bilateral relations were elevated to the level of a strategic partnership, Hernandez said.
What's more, the two countries closely cooperate within the framework of international organizations and platforms including the G-20, Organization for Economic Cooperation and Development (OECD) and MIKTA, of which both Turkiye and Mexico are members, he added.
Referring to economic ties, Hernandez said the bilateral trade volume between Mexico and Turkiye had reached $1.5 billion as of 2021 with much greater potential.
"If the Free Trade Agreement, whose negotiations are underway, can be concluded, bilateral trade and investments will soar greatly," he said.
Hernandez moreover underscored that there are areas such as oil drilling and refining in which Mexico has expertise and is willing to share it with Turkiye.
"For example, Mexico can help Turkiye with exploitation of newly discovered natural gas reserves in the Black Sea," he said.
Hernandez also praised Turkish Airlines -- Turkiye's national flag carrier, which files to Cancun and Mexico City from Istanbul -- for its role in improving bilateral cultural, touristic and economic bonds.
The ambassador also indicated that cultural and academic relations between the two countries' related intuitions and peoples are flourishing.
"There is a great interest from ordinary Turkish people towards any cultural event we organize, including movie festivals, exhibitions and conferences," Hernandez said.
Similarly, the Yunus Emre Institute in Mexico City, in close coordination with the Turkish Embassy, successfully promotes Turkish culture and the Turkish language to growing numbers of Mexicans, he maintained.
Interest in Turkish culture is expanding in Mexico, he said, and added that Spanish-translated works of some Turkish authors including Orhan Pamuk and Ahmet Hamdi Tanpinar find avid readers.
Hernandez in addition proposed that the cinema industry in the two countries should cooperate to jointly produce movies and TV series for Mexican, Turkish and world markets.