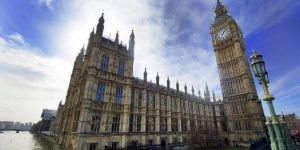 Northern Ireland Secretary Brandon Lewis resigns from UK gov't amid political crisis in London
Total number of those quitting Boris Johnson's government reaches 50 with new resignations Thursday
A group of British politicians resigned from the government Thursday morning amid the political crisis surrounding the Boris Johnson government.
Brandon Lewis, the Northern Ireland secretary, resigned, saying "a decent and responsible government relies on honesty, integrity and mutual respect."
Lewis had been the Northern Ireland secretary since 2020 and a close ally to Prime Minister Johnson.
Lewis' resignation was followed by Treasury Minister Helen Whately.
She said: "There are only so many times you can apologize and move on. That point has been reached."
The avalanche of resignations in the Johnson government started Tuesday evening as Rishi Sunak and Sajid Javid quit as the chancellor and health minister, respectively.
Security and Borders Minister Damian Hinds and Science Minister George Freeman were the latest politicians to leave the government Thursday morning, bringing the total number of government resignations to 50.
Johnson's office Wednesday night said the prime minister is remaining "absolutely defiant" and "does not intend to resign."
He wants to "fight on" and is likely to make more ministerial appointments, according to the No 10.