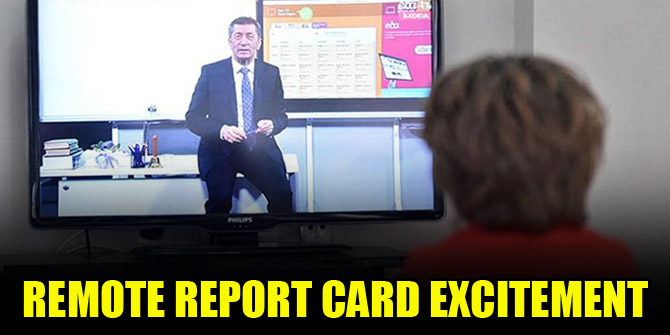 Remote report card excitement
Through the new types of coronavirus measures, distance education with TRT EBA, EBA and live classroom applications, web and digital auxiliary resources will end today and approximately 18 million students will start the 3-week semester break.
The First Term of the 2020-2021 Faculty Member Completed Distance. Underlining the opening of the schools to face-to-face education by ensuring the educational conditions, İlhan Yılmaz, General Manager of Özelmak Schools, said, "It is very difficult for us to conduct education without establishing social relations with students. The fact that our students spent time in front of a long computer brought some physical ailments. This picture has increased due to prolonged exposure. Likewise, we see that there is a problem with obesity in young age groups because they are very inactive. If this takes a little longer, it will bring greater troubles, "he said.
'FEDAKÂRCA STUDIES HAVE BEEN DONE DURING THE DISTANCE EDUCATION PROCESS'
Indicating that they have been devotedly searched for distance education in both public and private schools, Yılmaz said, "A great platform was created for students to try. In the evaluations we make, the dimension of learning and teaching with distance education takes place largely. I think there is a lot of trouble in the teaching dimension. As a result, we realize us in a necessary situation, but the main thing is face-to-face training. Face-to-face education enables their characters to develop, to establish their personalities, to socialize and to discover their talents. With distance education, cultural, social and sports activities are very low. The main thing is to reveal their talents and instill self-confidence in them with these activities. "This is a result we have not been able to do for a long time."
'WE FORECAST SCHOOLS WILL BE OPENED ON 15 FEBRUARY'
Noting that the groups with which they were most difficult in distance education were in the first grades, and the exam groups were in the classes and the exam groups were in the classes, Yılmaz said, "In the first grade, they learned to read and write with face-to-face training in November and December. With the bans coming back, face-to-face education was suspended. During this period, our teachers and administrators worked devotedly. I thank them very much. With the comments made in the surveys and on the social media we follow, a large proportion of our parents want to open up and do face-to-face training. Our minister also spoke to the press and continues to work with great effort to open schools to face-to-face education. As an educator, I believe that our education at all levels will begin on February 15 with the second term. According to the statements of the Scientific Committee; they stated that the schools are reliable. When we evaluate these, we think that face-to-face training will start on February 15 ".
'FACE-TO-FACE EDUCATION FOR STUDENTS PREPARING FOR THE EXAM'
Yilmaz, who informed that he will start the face-to-face education taught for the exam, said, "They gave permission after January 22 in both public and private schools regarding the courses of 8th and 12th grades. This was actually a step towards normalization. Students will be able to do optional training face to face in exam exams. We will also start an optional face-to-face training starting from February 1st. I hope we are planning on February 15, starting at all levels. There are too many complaints forwarded to the Ministry. Allies are anxious that their children will suffer from screen addiction or other illnesses. On February 15, by taking all our precautions, schools should be opened "
'LET THEY STAY AWAY FROM THE COMPUTER IN THE SEMESTR'
Stating that the students should stay away from the computer environment during the semester break, Yılmaz said, "This mountaineer country has become dependent. He publishes his book readings with some. We recommend that they go out, walk, choose sports that they can do again, and focus on physical activities within the conditions and possibilities. For the exam, our students should focus on what you may find missing. They should try to turn their mistakes into a positive in the wrong interpretation they make in their trial exams. When they do this work, they will be better prepared for the second term "and ended his speech.
SÜMEYRA KENESARI / YENİ HABER