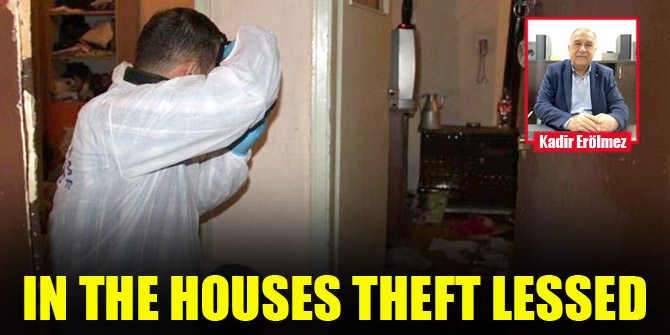 Theft in homes has decreased
Increasing time spent at home due to the pandemic led to a decrease in housing thefts in 2020.
Increasing time spent at home due to the pandemic led to a decrease in housing thefts in 2020. According to the data announced by the Minister of Interior Süleyman Soylu; While there were 281 thefts a day in 2017, this number dropped to 158 in 2020. Stating that the masks that settled in our lives due to the pandemic make it easier for the thieves to avoid being caught by the security camera, Kadir Erölmez said, "In some cases, only the security camera is not enough. We should not ignore the alarm systems, "he said. Theft is one of the most common types of crime. Drawing attention to the importance of security systems, Konya Television and Radio Repairers, Computers Security Systems and Consumer Electronics, Chamber of Tradesmen and Craftsmen Kadir Erölmez said, "Security systems have been at the forefront for about 10 years. During the pandemic period, closed circuit systems, alarm systems, their importance was understood more and they were very useful in this sense ".
"SECURITY SYSTEMS ALSO INCREASE THE BUSINESS EFFICIENCY"
Emphasizing that security systems increase work efficiency, Mayor Kadir Erölmez said, "When you build a security system instead of a workplace, work efficiency increases. Because it has the image of being watched by working workers, it performs its duty even if it is not monitored. We entered an era where thieves were most easily caught. Whenever there is a theft somewhere, it is definitely caught by a security camera and I think it gets caught very quickly. I think thieves get caught faster than before. This is due to the cameras recording. Cameras are beneficial to the whole world in terms of camera and security in the cheeks. We are now in the age of security. Everyone has a camera installed in their home in their factory. It is a very popular job right now. It is one of the units where our members earn the best money and do business ". Saying, "If there is an incident in front of the workplace or home, it is a crime to give it to the police or to disclose it," said Erölmez, "Citizens do not want to provide security camera images due to the law. But I think it's a very useful thing because it reveals everything. The pandemic period reflected negatively on security cameras. Because although the cameras can see the thief, they cannot be recognized due to the mask. Even if the theft incidents are reduced due to the pandemic, it is very difficult for the cameras to detect those people if they have a mask and a hat on their head. For example, a thief who enters a jeweler can easily lose track of him by theft he did at that moment. The camera has an old system and an IP system. I am currently recommending an IP system. It can be viewed on computer and mobile phone. For example, you can see and watch from the USA, from Istanbul to the workplace in Konya. This situation is also very beneficial, "he said.
'COST IS CHANGING'
Stating that the cost of security systems varies according to its brand and features, Erölmez said, "There are very suitable, very expensive or security systems. If you are going to have a camera system built, you must first determine what you will buy. By saying the brand and pixel number, you will search accordingly. Otherwise, if the person does not specify a brand when he goes to buy a camera, he cannot get a normal price. In this sense, the consumer should be informed. A four-camera IP system costs about 4-6 thousand liras. It is especially important in factories and workplaces employing a lot of workers. A person normally cannot control his or her workplace. But when there are several cameras or eyes, when something is stuck on his head, he looks immediately and detects it from there. I recommend security systems in all workplaces. But it's usually more common in factory-style workplaces, "he said.
"SECURITY SYSTEMS HAVE BEEN COMMON IN THE HOUSES"
Erölmez said that nowadays security systems are widespread in homes and therefore theft incidents have decreased. Erölmez said, "Today, almost all sites have security systems in their homes. It is recorded who came and who went. It occurs immediately when there is a theft. Security systems in homes and sites are very common now. Our citizens should definitely have camera systems built. It is not a very expensive product. A single camera system that can be watched over the phone can be bought even for 150-200 liras. If he leaves his child with stage, he will not be left behind. There are other security systems than cameras. We should not ignore the alarm systems. The alarm is also a very deterrent force. Video intercom systems must be installed in buildings. Generally, thefts in the apartments are caused by opening the door directly. "Old style bells need to be replaced with video intercoms," he said.
SÜMEYRA KENESARI / YENİ HABER GAZETESİ