Top Turkish, US diplomats meet in Brussels
Turkish Foreign Minister Mevlut Cavusoglu, US Secretary of State Antony Blinken in Brussels for NATO meeting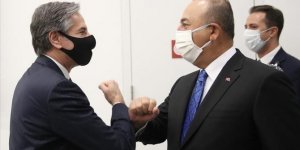 Turkish Foreign Minister Mevlut Cavusoglu on Wednesday met with US Secretary of State Antony Blinken on the sidelines of a NATO foreign ministers' meeting in Brussels.
It was their first face-to-face meeting since Blinken took office in late January, though they spoke on the phone on Feb. 15. Both countries are longtime members of the NATO alliance.
The meeting had a positive atmosphere, said Turkish diplomatic circles. They discussed bilateral relations and international issues and highlighted the importance of alliance relations, said the sources, who asked not to be named due to restrictions on speaking to the media.
Blinken wrote later on Twitter: "I look forward to continued cooperation with our NATO Ally Turkey on counterterrorism, voiced our support for exploratory talks with Greece, and emphasized the importance of democracy and human rights."
Terror groups, missile defense
Discussing Syria, Libya and the Eastern Mediterranean, Cavusoglu reiterated Turkey's demands that the US take action against two terror groups, the YPG/PKK and the Fetullah Terrorist Organization (FETO), said the Turkish sources.
Turkey has long sought the extradition of FETO ringleader Fetullah Gulen, a US resident who was behind the defeated 2016 coup attempt in Turkey. It has also demanded that the US cut ties and support to the YPG/PKK, a terrorist group the US has worked with in northern Syria to fight Daesh/ISIS. Turkey has argued that using one terror group to fight another makes no sense, citing the YPG/PKK's threat to Turkish security.
For his part, Blinken thanked Cavusoglu for Turkey's proposal to hold meetings in Istanbul to support the peace process in Afghanistan.
The two top diplomats also discussed the Russian S-400 missile system.
The US has claimed the system poses a threat to NATO weapons systems. Turkey says its efforts to buy missile defense from the West were rebuffed, and also that the S-400 and NATO systems would not be integrated, so there is no threat.