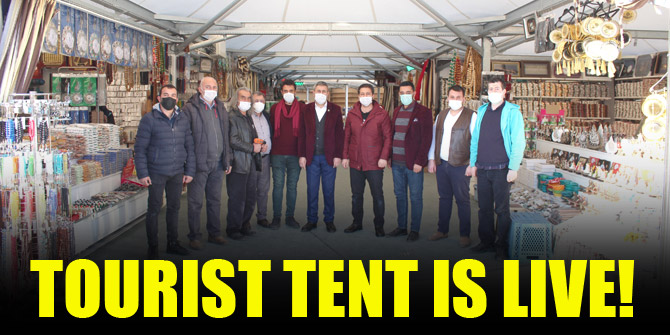 Tourist tent live!
The Mevlana Bazaar and the Golden Bazaar artisans started to serve in the Mevlana Tourist Bazaar due to urban transformation.
Mevlana Tourist Bazaar awaits its customers with its products such as souvenirs, Mevlana candy, Turkish delight, pishmaniye, Konya wrap, date, rosary, silver jewelry, carpet, rug, toy, buffet, handicraft, leather clothing. Saying that the prices are more affordable than ever, the tradesmen want citizens to come and see.
'ABOUT 35 TRADERS ARE HERE'
Informing that there are approximately 35 tradesmen in the Mevlana Touristic Bazaar, Konya Coppersmiths Chamber of Hardware, İbrahim Işık said, "First of all, I thank our Ministry of Environment and Urbanization. They reserved our shops around Mevlana. I hope it will become a beautiful place and a beautiful environment in the future. We had artisans brothers there. Mevlana Bazaar has entered the stage of collapse. After it collapsed, the shops there were scattered in three regions. Together with Mevlana Bazaar, some of our souvenir shops went to the old LC Wakiki store. Some of them went there of the İplikçi Mosque. Some of them went to the Mevlana Tourist Bazaar opposite the Martyrdom. This is a new formation. Approximately 35 of our brothers and sisters participated here. Our citizens of Konya or our guests from outside do not know this place. If our citizens of Konya want to buy souvenirs, sweets, trinkets and ornaments, there are campaigns at our prices. Our tradesmen, who own a gift shop, offer the prices of promotional products at very affordable prices. We are waiting for all our citizens ".
'OUR BIGGEST LACKING IS PROMOTION'
Expressing that there is a lack of recognition of Mevlana Tourist Bazaar, Konya Şekercim Gift Owner Selim Yapılcan said, "We had to leave our shops due to urban transformation. When we got out, we had to find a suitable shop around Mevlana. Our Konya Metropolitan Municipality has established a tent city in front of the martyrdom and we are carrying out the sales of our products here with my 35 tradesmen. For this reason, we would like to thank the Metropolitan Municipality Mayor Uğur İbrahim Altay. The second person we would like to thank is Karatay Mayor Hasan Kılca. He also helps us a lot in both logistics and cleaning. At the moment, our biggest shortcoming is that this place is not recognized. Especially for our fellow countrymen in Konya, great things are happening here. When it comes to gift products in Konya, the first thing that comes to mind is Mevlana candy. "When our citizens of Konya bring their guests here, this place will be a little better known."
'THE GIFT SECTOR IS REPRESENTED HERE'
Saying that they have a wide range of products in terms of souvenirs, Selim Yapılcan said, "Whirling dervishes, trinkets and souvenir style products are here. Souvenir sector will be represented in our Mevlana Touristic Bazaar. Second, our prices will really be cheaper than ever. Because our expenses are not too heavy here. In order to promote this place, in the first year the products will be sold with a very low profit margin or there will be sales at cost. I am speaking on behalf of all tradesmen, our products here will be very affordable, "he announced.
'THEY CAN RECEIVE SERVICES AT VERY AFFORDABLE PRICES'
Underlining that citizens can get affordable services in the newly established bazaar, Yapılcan said, "One of our biggest advantages is to build a parking lot around our new bazaar. It will make it easy for people to come here. Since this place will be a little more fair, our prices will be very affordable. Therefore, circulation will be high. Since there will be plenty of variety for promotional purposes, our products such as confectionery will be fresh. Therefore, we are waiting for all our citizens here. Although we do not have an official opening yet, we started to serve. Until our new workplaces are built, our citizens of Konya can receive services at a very affordable price "
SÜMEYRA KENESARI / YENİ HABER GAZETESİ