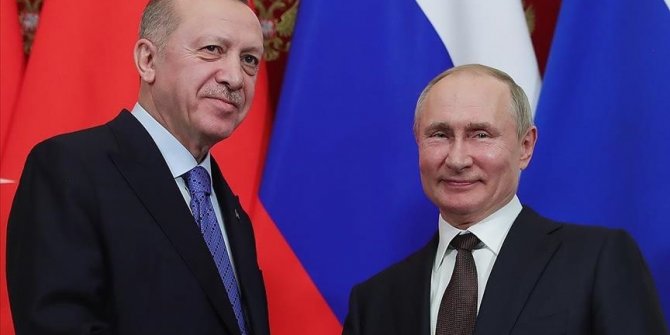 Turkish, Russian leaders discuss coronavirus pandemic over phone
Russian, Turkish presidents discuss fight against pandemic, Sputnik V vaccine, plus Libya, Nagorno-Karabakh
Turkish President Recep Tayyip Erdogan and his Russian counterpart Vladimir Putin on Wednesday discussed in detail the fight against coronavirus and a Russian-made vaccine set to be used in Turkey.
In a phone call, Putin stressed Russia's readiness to start deliveries to Turkey of the Sputnik V vaccine this month, the Kremlin said in a statement.
Russia and Turkey are also working on joint production of Sputnik V in Turkey.
Both sides share the view that anti-pandemic measures will make it possible to achieve a drastic improvement in the situation and to resume bilateral tourist ties, according to the statement.
The two presidents also praised the countries' cooperation on Syria and agreed to continue their efforts for a political solution.
They also agreed to further support the efforts of Libya's Government of National Accord to strengthen the country's integrity, with due consideration for the interests of the main political forces and regions, said the statement.
On the Nagorno-Karabakh settlement reached last November, Erdogan addressed the activities of the Russian-Turkish Center for Monitoring the Ceasefire and all military operations in the former conflict zone.
Separately, a statement from the Turkish Presidency said Erdogan "voiced Turkey's expectation that the shipment of Sputnik V vaccine, to be delivered from Russia to Turkey pursuant to the agreement made, would be carried out as had planned."
Erdogan also welcomed the addition of vaccine production to the many fields of existing cooperation between the two countries, the statement said.
Noting the importance of Turkish-Russian cooperation in ensuring lasting stability in Syria, Erdogan stressed that "the regional normalization and stabilization process should also be used well in the Upper Karabakh issue."
The Turkish and Russian presidents have spoken on the phone three times this year – on Jan. 13, Feb. 18, and April 9. Via video conference, on March 10 the two leaders attended the groundbreaking ceremony of the third power unit of the Akkuyu Nuclear Power Plant in Mersin, southern Turkey.
Last year, Erdogan and Putin had more than 20 face-to-face meetings and telephone conversations.