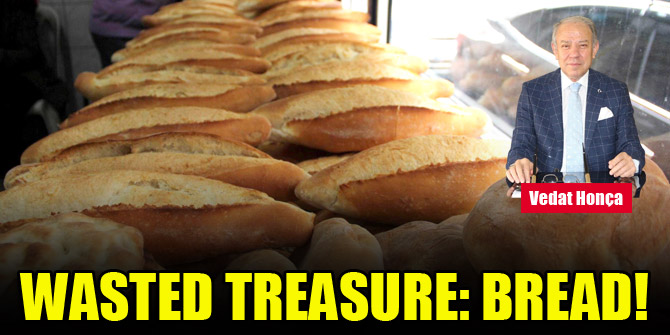 Wasted treasure: bread!
The pandemic curfews, especially at the weekend, could not prevent the waste of bread. During this period, bread production and consumption decreased, but there was an increase in waste accordingly.
Although the pandemic-built bread production decreased, the purchase of bread with advanced need caused an increase in waste. Making evaluations on the subject, Vedat Honça, President of Konya Chamber of Bakers, said, "During the pandemic period, our inflation fell and we do not have a lot of bread. 70 percent capacity loading before the pandemic now we are working at 50 percent capacity. This bread consumption has decreased. "There is a decrease in the simit makers, pita makers and yufkacis in the same conditions," he said.
'BREAD PRODUCTION FALLS IN HALF WITH RESTRICTIONS'
Stating that whole wheat bread is consumed more as the President of the Bakers' Chamber, Honça said, "The nutritional value of whole wheat bread is very high. But unfortunately, there is not very strong demand on whole wheat. Folk bread is sold more than this. We have bread types in all our bakeries. Citizens have the opportunity to find all kinds of oven benches whenever they want. During the pandemic period, folk bread and dessert types were preferred. Simit pastry also demanded time. In the morning services, simit pastry is requested near noon. Bread is also produced very little until before. For example, today, while making 3-4 thousand loaves in a bakery, bread production is halved during pandemic buffering periods and curfews at the weekend ".
'CHEAPEST LOWERS THE VALUE OF BREAD'
Connecting the increase in bread waste to the low price of bread, Honça said, "With the decrease in the number of bread, the waste remained at the same rate. The amount of bread is 500 high in the same tab, as the waste is high. The reason for this is the value of bread in terms of price. For example, when the price is cheap, a person buys three loaves instead of two. As such, the surplus bread becomes stale and bread is wasted because they do not eat stale bread ", he underlined. Informing that there is no bread service to homes during the weekend restrictions, Honça said, "It is more appropriate for citizens to buy bread from nearby markets and bakeries with markets open until 5 o'clock. Citizens buy bagels, pastries and bread in their own bakeries, "he said.
LOCAL TRADER PACKAGE SERVICE SUPPORT!
Reminding that local craftsmen do take away, Honça, we have package services in our Etliekmekcılar, pita makers and pastry shops. We recommend our citizens to support local tradesmen for ordering from here, "he concluded his words.
SÜMEYRA KENESARI / YENİ HABER