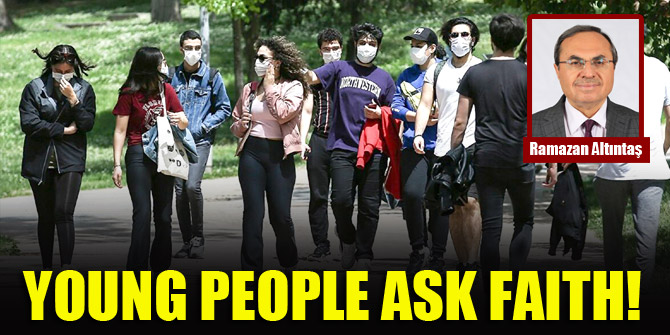 Young people ask about faith!
Prof. Dr. Ramazan Altıntaş said, "Unless there is guidance on correct religious information, young people may be influenced by false beliefs and deviant views of malevolent people and groups. We all have a task. We should all guide the young people "
Prof. Dr. Ramazan Altıntaş presented his book, "Young People Ask About Faith", in which he answered some questions that caused confusion about faith among young people. Stating that the book attracted great attention, Ramazan Altıntaş said, "With the book I wrote, I want to save our youth from the impasse of doubts and hesitations that arise in the field of belief."
'THE SUBJECT OF DEISM IS PROCESSED IN A WIDE WAY'
Stating that questions about religious issues are frequently asked by all segments of the society, Altıntaş said, "We met with students from time to time at the Selçuk University Campus Mosque. In our conversations, there were questions asked by our students studying at different faculties of our universities about current beliefs. I tried to detect them. In order to be beneficial to our young people, we made efforts to understand their language and world and gave our answers accordingly. There are answers to the questions our young people ask about current belief issues in the 3background of the creation of this book. Our late ones, 'Hodja, what is shirk? They asked questions such as "Who is the polytheist?" But the most frequently asked questions were the "deism" issue that has recently been voiced in our press. They asked questions such as "Are there deist Christians in the west, and will there be deist Muslims in the east?" This book covers a wide range of deism ".
'YOUNG PEOPLE HAVE A TRUST PROBLEM'
Stating that young people have a problem of trust in religion, Altıntaş said: "Our youth have hesitated about 'What to read, whose book we will read, to whom we will ask', and some withdrawals have occurred in our youth about living the practices of Islam or obtaining Islamic knowledge. In the background of this, conflicts and wars, especially in the Islamic world, have been effective. The student asks: Why are there not wars in the west but all wars in the Islamic world? Why are Muslims fighting themselves in Yemen, Syria, Afghanistan, different parts of the world? Or why are there sectarian conflicts despite being connected to the same religion and the same root? "They say that they do not trust anyone about religion because of events such as FETÖ. Some look at the state of the Islamic world. There are some movements in the Islamic world that adopt religious interpretation. Mass murders are carried out by people who identify themselves as Daesh, as Boko Haram, as Al Shabaab. This sort of thing is causing the youth to take a step back on Islam. "
'DEISM, ATHEISM AND AGNOSTICISM ISSUE'
Giving information about the dilemmas of deism, atheism and agnosticism common among young people, Altıntaş said, "Deism is based on a creationist theory in the west. 'I believed in God's unity. But I oppose those who come from him "they have a philosophical understanding. There are questions about atheism. Questions like If Allah is merciful, if he is compassionate, why does he not show mercy to His servants? These are the main arguments of atheism. The fact that the universe came into being as a result of coincidence, the existence of evil in the world is evidence that there is no God. " At this point, we also refer to atheism in our book. There are discussions among young people about agnosticism. We are talking about a philosophical orientation called agnosticism. According to this understanding, it means that the existence or absence of God cannot be known. People who hold the view of agnosticism defend the view "We cannot know the existence and absence of God, we remain neutral."
'SOME TEAM GROUPS HAVE ARRIVED'
Announcing that some groups that exploit the beliefs of young people have emerged recently, Altıntaş said, "There is a topic that has been discussed among the youth recently. In our country and in our world, the groups that we call new cults started to form. One of these groups is the "Communication with Angels" group. Communication with angels, angel cards, angel-related materials appeared. In other words, a number of groups emerged that exploited the beliefs of young people. There are those who say they communicate with angels today. Fraudsters appeared who said he was talking to them. We tried to explain this. What we call a totem among young people started to spread. We focused on the subject of totems and superstitions related to this. 'Is there a totem to our religion? How does believing in the totem affect us religiously? I also touched upon issues such as "What are the theological consequences of connecting goodness and success to the totem?" There are students who always ask why the prophets came from the Middle East. These topics are covered in a very wide range, "he said.
'DARK THE FUTURE OF HUMANITY AWAY FROM GOOD BEHAVIORS'
"Developments in the field of science and technology that are progressing at a dizzying speed have accelerated all kinds of information flow with the contribution of the communication revolution," said Altıntaş, and continued: It is also very easy to reach. Among the information carried, there are useful ones as well as harmful information aimed at disrupting the minds, hearts and beliefs of our youth. Unfortunately, humanity is being dragged into a lifestyle that regards everything as permissible for the sake of undervalued interests. Our young people also flow in this process. Therefore, the future of humanity, which moves away from forward-looking activities and all kinds of virtuous behavior, is dark. For this reason, we should lead our young people to comprehend the meaning of life and the great values ​​of humanity. It requires this leadership to convey clear and easy answers to the questions they cannot come up with about the world of belief. "
'OUR YOUNG PEOPLE ARE THE SOLE SOURCE OF TRUST'
Altıntaş said, "We are obliged to protect the physical health of our youth, who are the hope of our future, as well as the health of mind, heart, spirit and belief. He drew attention to the importance of youth by emphasizing that our youth, who are correct, logical, robust and equipped with superior qualities, are the guarantee of our future and the only source of trust.
SÜMEYRA KENESARI / YENİ HABER