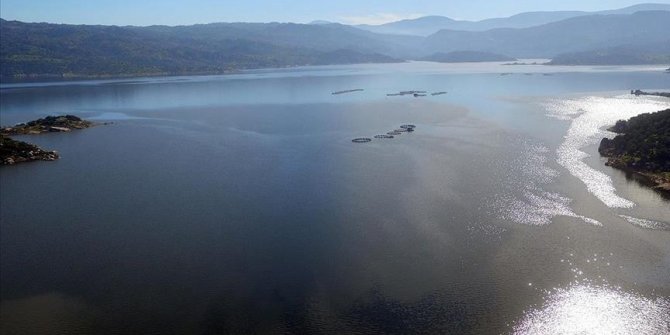 Work groups start activity for 1st Water Council in Turkey's history
Opinions from academics, NGOs, institutions, municipalities and consumers, council to prepare roadmap for future of water
While Turkey is taking action for the first Water Council in the history of the republic under the leadership of the Ministry of Agriculture and Forestry, opinions and suggestions that will guide the future of water will be collected from the public.
President Recep Tayyip Erdogan carried out the presentation of the first Water Council on March 29 to determine short, medium and long-term strategies on water.
Thus, the country's water management policies will be guided by all stakeholders.
Eleven different working groups were formed within the scope of the council, including water efficiency, water management on basin-scale, water law and policy, water safety and wastewater services, protection and monitoring of water resources in terms of quality and quantity, the impact and adaptation of climate change on water resources, decision support systems in the management of water resources, development of water resources, agricultural irrigation, storage facilities (underground and overground dams, ponds) and water-forestry-meteorology.
Together with the Ministry of Agriculture and Forestry, around 130 academics from 56 universities, representatives from relevant public institutions and organizations, 33 national non-governmental organizations, metropolitan municipalities, representatives from water and sewerage administrations and water consumers are included in the working groups.
Working groups started meeting this month. The Water Law and Policy Working Group held its first meeting at the beginning of the week.
Working groups, which will continue their activities for three months, are planned to report their results by the end of July. Then, the evaluation process of the council reports will begin.
The commissions will carry out the compilation and evaluation process until October of this year. After this process, the final declaration is expected to be prepared and published.
On the other hand, ideas and opinions about the future of water are collected from the "susurasi.gov.tr" address. About 250 views were delivered over the site in a short time.
Water law
With the council, various measures will be determined and implemented in order to achieve targets such as reducing leakage in water, reusing water returning from irrigation, saving water by increasing individual awareness, increasing irrigation efficiency with piped network irrigation systems, and achieving efficiency in food production and agricultural revenue.
It is also aimed to enact the Water Law in line with the outputs of the council.
The law is forecasted to prevent multi-headings in water management, provide water management on basin-basis, determine priorities in the use of water resources, and ensure the management of water in terms of quantity and quality.